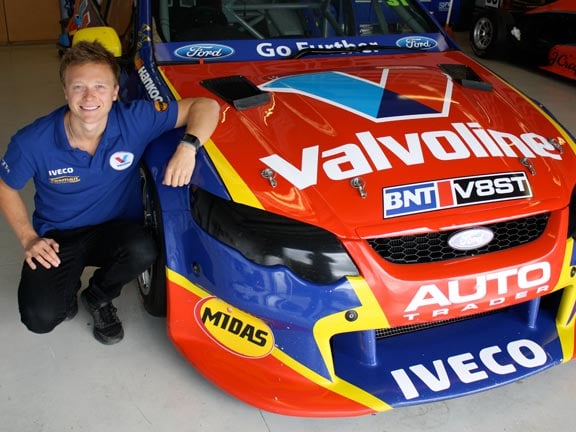 There is a saying around pit lane that motorsport can give you the highest of highs but can quickly turn around and also give you the lowest of lows. This weekend just gone, I experienced some of those lows.
I raced in my first solo race for Tasman Motorsports Group at the Brother 250 event in Taupo – quite a big deal for me as it has been something I've been building up to all year in preparation for the endurance races later in the season.
Taupo is one of my favourite tracks. Anyone who has driven it before knows that it has a really nice flow with a little bit of everything and rewards smooth driving. Track conditions were very cold so it makes it a challenge getting the tires up to temperature at the beginning of a race. It is even more of a challenge as the Hankook tyre we use can be difficult to get up to temperature on a warm day let alone a freezing cold one! Once they are up to temperature however they are fantastic tyre to race on and I think they are one of the reasons V8 SuperTourers provide such action packed racing.
Things however didn't really go to plan for us at Taupo. The main goal for the weekend was for me to get as much track time as possible with the aim of preparing for the enduros later in the year, as that is where our team's focus is this season.
Unfortunately we were hindered with a few problems starting with a gearshift cut issue in the first practice. I still managed 9th quickest and we tried rectifying the problem in the second practice but the component that was causing us the issues needed to be replaced forcing us to sit out practice two. Unfortunately due to the stress in the gearbox caused by the shift cut issue the gearbox failed completely in qualifying meaning I had to start back of the field for the first two races on Sunday.
Though it was a bad weekend, we had plenty of positives to take away. I had lots of speed and I was coming through the field quickly matching the same pace as the top six guys. Aside from that, it was a breath of fresh air for myself and the team in knowing we are capable of being a front running car without the problems slowing us down.
On another happier note it was great putting smiles on some faces by taking some of the team from Central Motor Group for hot laps. By the looks on Tim, Steph & Louisa's smiles it was an experience they won't forget in a hurry.
As I sit here on the aeroplane to Queenstown heading to Highlands Motorsport Park for driver training with Audi, it's time to now focus on our first V8 SuperTourers enduro at Hampton Downs at the end of the month where I pair up with Daniel Gaunt.
Our confidence is high going into the long distance races as myself Daniel and the TMG team were a strong team and we are looking forward to giving the enduro championship our best shot.
See you at the track.
Check out all the weekend action from the Tasman Motorsports Group team here: