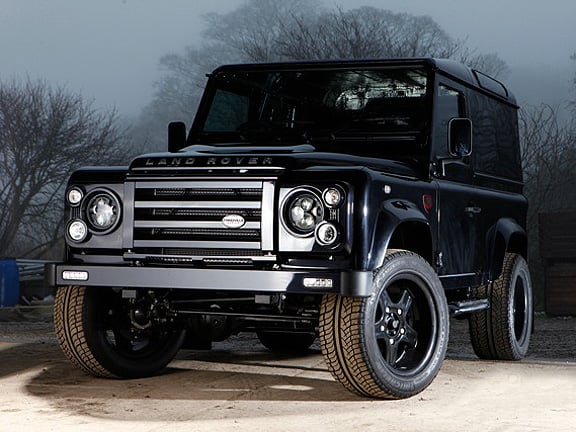 Restricted to only 25 units worldwide, and designed to offer individuality coupled with a superior level of comfort and practicality, the Limited Edition Land Rover is based on the latest Defender 90 Hard Top model, and hand-assembled by a team of highly skilled engineers at Prindiville's UK manufacturing facility close to Silverstone, in-line with the customer's bespoke interior and exterior specification. Enhancements to the suspension, braking system, cooling, and engine are undertaken by Defender specialists, Lincolnshire-based Alive Tuning, who has become renowned in their field for their extensive experience, unrivalled quality, and attention to detail.
The Limited Edition offers a choice of four different power upgrades, which gradually increase the output of the 2.4-litre TDi powerplant from 122 to 190 bhp. Coupled with the dual-range six speed transmission, which can be further upgraded to an automatic or tiptronic gearbox, and the additions of a high flow intercooler, silicone hoses, and turbocharger, this translates into a 0 to 60 mph (0 to 100km/h) sprint of just 10 seconds, and a peak torque of 460Nm. The model is specified as standard with 18-inch five-spoke alloy wheels, complete with a high performance braking system thanks to Prindiville's bespoke six-pot callipers and sport discs. Custom designed and manufactured performance springs also allow greater vehicle speed and stability.
Each of the 25 customers are invited to specify a bespoke paint scheme in either a matt or metallic finish from Prindviille's very own palette, thereby complementing the beautifully-designed exterior which boasts a number of features exclusive to the latest Limited Edition. These are namely a rear Prindiville signature badge, a titanium high performance sports exhaust, chrome side protection runners, LED front and rear headlamps, ribbed undershield, in addition to front and rear parking sensors and cameras, a world first for the Land Rover Defender.
The full leather interior is trimmed with the finest Italian hides, and superior comfort comes courtesy of Cobra sport seats dressed with hand-stitched piping. This is echoed in the matching leather steering wheel, alcantara driver and passenger carpets, and bespoke centre console storage unit, all built and tailored according to the owner's colour selection. Each of the Limited Edition Defenders by Prindiville equally receives a dashboard-mounted numbered aluminium plaque commemorating the series in the coachbuilder's prestigious collection.
The application of internal sound proofing significantly reduces road and engine noise, allowing occupants to enjoy the unsurpassed driving experience as well as the in-car entertainment and communication system. This comes as standard with a five-inch built-in LCD television interface providing access to wireless Internet, a DVD player, satellite navigation, 360-degree external vision, surround sound from four loudspeakers, as well as a connection to any mobile handset and MP3 device via Bluetooth.  
Commenting on the launch of the new Limited Edition Land Rover Defender, Alex Prindiville, Founder and Chief Designer of Prindiville Design, explains: "The Limited Edition Land Rover Defender is a truly unique proposition in that it offers a more refined, quiet, and comfortable environment comparable to that of high-end 4x4s. This is an uncompromised solution for either urban city driving or long-distance journeys. The significant interest which we have enjoyed to date will no doubt pave the way for further Land Rover or Range Rover customisations of a similar nature."
The Limited Edition Land Rover Defender by Prindiville Design is available to order now at a cost of £52,000 or US$81,500 (excluding import taxes and shipping).