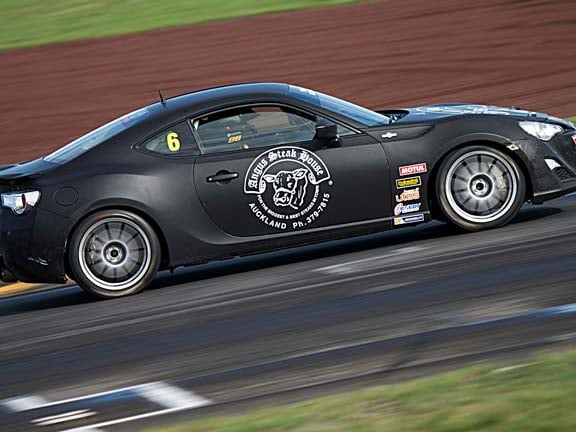 That is what Tom Stokes faced in November last year when he arrived at Pukekohe to begin his rookie season in the Toyota Finance 86 Championship. Over the six-round, 18 race championship that took racers from Pukekohe near Auckland all the way to Teretonga outside Invercargill, Stokes proved his mettle, moving through a field that eventually numbered 27 drivers to finish tenth overall.
This year, he returns to the same white-hot championship armed with a full year's racing experience and aiming to raise his game and start chasing podium finishes. Once again the championship starts at Pukekohe on November 4-6 as part of the V8 Supercars weekend.
In their first year the team leased their car while Stokes got familiar with the championship, but strong interest in the championship and the cars has driven the team to buy the car to race again this year. The championship is likely to attract another record entry for the coming season.
A passionate follower of motorsport, Aucklander Stokes says he had been researching the New Zealand motor racing scene for the right championship.
"I was really keen to get into some motorsport. After looking around and talking to family friends in the scene we worked out this was the best series to develop my skills and progress in motorsport," he said.
The pressure of that first round – sharing the programme with the Australian V8 Supercars and the full-weekend crowd in excess of 100,000 people – was intense, Stokes says Pukekohe remains his all-time favourite: 'really exciting, lots of fun, very challenging!'
Support and advice from Neil Allport and Martin Short helped him hone his racecraft and driving skills and refine the setup of his satin-black Angus Steak House TR 86.
"Being new to car racing I found it really hard to adjust my mindset to give touch-and-go opportunities a run. Martin helped me a lot with the Motec data display system and Neil's all-round experience was great to have access to, we made great progress with setup thanks to these guys," he said.
As the 2015 – 2016 series progressed, Stokes says he quickly came to understand how crucial consistency and a smooth racing style can be.
"That's how close the series is. Mess up one corner, or two, and it takes a long time to climb back up!"
Following his tenth place in the championship, Stokes entered the North Island endurance series to hone his skills in the 'off-season', gaining valuable seat time and a different racing experience in a mixed grid of race cars.
"It was great to race in the wet at Hampton Downs and really cool racing with the top-class cars like Trass Motorsport – and staying out of their way. I learned a lot about the TR 86's strengths and how to make the most of them," he said.
Sponsorship, always the rising race driver's toughest task, becomes easier in a championship with its own TV coverage. Every round of the Toyota 86 Championship has its own TV coverage. This year Stokes will once more be supported by Angus Steak House and he has secured Resene Paints and Rockit Apples.
"I'm really looking forward to the championship. I feel I have improved a lot in a year and I can't wait to grid up at Pukekohe again for the opening round in November," he said.
Tom Stokes joins other first-time and returning racers already confirmed for 2016-2017 including Reid Harker (Albany) and Mike Lightfoot (Milford). The championship recently confirmed a prize fund of $100,000 and its opening round is once more at the New Zealand round of the V8 Supercars, held at Pukekohe November 4-6.