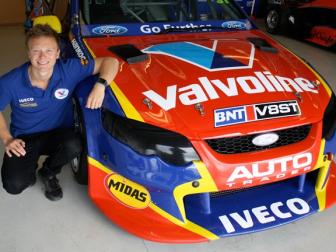 The Tasman Motorsports Group (TMG) Valvoline Ford has finished the 2013 V8 Supertourer Series inside the Top 10 of the teams championship following the last and final round held at Pukekohe over the weekend.
500km of racing spread over three races saw the Valvoline Ford driven by Daniel Gaunt and Andrew Waite record an 8th and 9th place finish before an unlucky DNF in the final race of the weekend.
Gaunt finished the championship in 6th place having contested all seven rounds, with Waite contesting four round and finishing 21st. The pairing of both drivers together saw them finish 7th in the teams championship.
Team Principal Steve Horne said it was an up and down season for his team.
"We had some very good rounds throughout the season, the round win at Ruapuna was definitely a highlight," says Horne.
"Where as the Taupo round was probably one of the worst weekend's the Tasman team has ever endured."
"We learnt a lot about the car this year, but are still a few hundredths of a second off the cars up the front. We need to bridge that gap."
"We know which area's need addressing, which we will address in the off season. Some small improvements will see us come back and produce more performances like we did at Ruapuna earlier this year."
It will be a short off-season for the team, with the series scheduled to be back on track in late January 2014.
The Tasman Motorsports Group Valvoline Ford enjoyed the great support in 2013 of IVECO Trucks, Autotrader.co.nz, Midas, BOC and Colin Waite Panel Beaters.
This episode we talk to the team what they think is the worst thing about race drivers, and all the highlights from our 2013 season. Check out the video below.