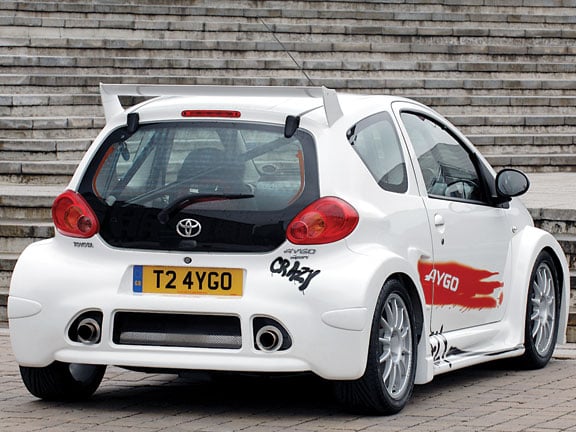 It's based on Toyota's city car, the Aygo, and uses a mid-mounted turbocharged Celica motor to propel it to crazy speeds. Toyota Britain says it has been developed to deliver no-holds-barred maximum driving pleasure and an unforgettable, fun experience. It owes more to the spirit of Group B rallying rather than D1 drifting, and has no electronic handling aids, no power steering and no ABS. Toyota says it's like a kart with doors and a roof.
It runs on 17-inch alloys and beefy Goodyear 225/45 tyres, and the carbon fibre rear wing is a part taken directly from the 340kph American Champ Car open-wheeler racing cars. The Toyota 1.8 VVT-i engine that powered the final generation Celica and MR2 Roadster is rear-mounted and driving the rear wheels through the Roadster's five-speed manual gearbox. 
A Toyota Motorsport turbo conversion kit boosts power output to 200 horsepower and torque to 240Nm. To cope with the greater engine performance, a bespoke cooling system has been designed, with a huge, front-mounted aluminium radiator – ideal for keeping the engine cool in endless, tyre smoking, crowd pleasing donuts. Weighing 1050kg, Aygo Crazy is estimated to be capable of 204kph, and will accelerate to 100kph in 5.7 seconds.
The suspension is from the MR2 Roadster, with MacPherson struts front and rear. Adjustable Tein dampers sharpen dynamic performance and the front and rear track are one-inch wider than on a standard Aygo. The cabin, finished by specialist coachtrimmers O'Rourke, features purpose-built sports seats with four-point safety harnesses and a full rollcage.
With its bold Aygo Crazy decals and T2 4YGO (turbocharged, two-seat Aygo) numberplate, Aygo Crazy will be hitting the show circuit – and the open road – this northern hemisphere summer.