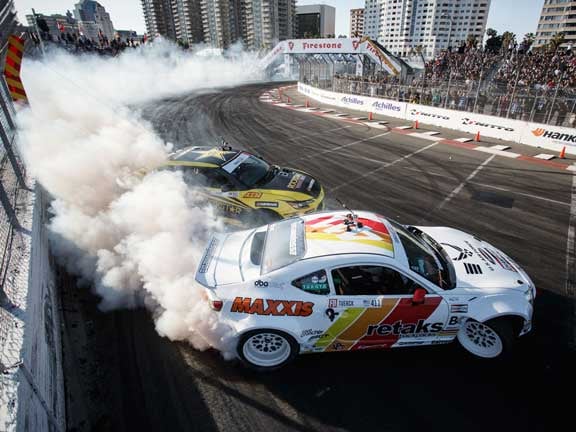 Tuerck has been signed on to drive the wild-card 450Kw 6-cylinder D1NZ Toyota GT86 in the Pro-Championship, the all-star guest car backed by parts specialist Toyotaz Galore in the first GT86 drift car in the series.
The D1NZ Toyota GT86 will have a number of high profile 'guest' drivers like Tuerck behind its wheel throughout the season.
Demon Energy D1NZ Series organiser Brendon White says bringing such a high caliber driver like Tuerck down from America to compete is a coup for the series.
"Ryan Tuerck has such a huge international following, he's a great character and a superb driver," says White.
"To have him come and compete in New Zealand really helps grow our series on a world stage and we are excited that D1NZ drivers get to rub doors with the world's best. We are sure our fans are going to be in for a real treat under the summer sun at Baypark which then finishes as a night round!"
Tuerck is also just as keen to experience D1NZ and rub shoulders – or panel and paint – with the best of the Kiwis.
"I am super excited to travel back to New Zealand, one of my favourite countries in the world. This time to battle door to door with some of NZ's best drivers under the lights of BayPark in D1NZ, says Tuerck.
In another pre-season announcement D1NZ has also secured enthusiastic backing from Link ECU, an equally internationally renowned New Zealand company producing Engine Management Systems.
After a successful partnership during rounds five and six of the 2014/15 season, Link ECU returns with the series as the official online Live-Stream partner, broadcasting all 2015/16 D1NZ Events around the world at D1NZ.com/LIVE.
Link Sponsorship and Communications Manager, Julie Powell says Link is please to be continuing their level of support with D1NZ for a further season.
"Link are delighted to once again be supporting D1NZ, this time as official Live-Stream partner of the whole series, especially after the successful partnership for round 5 and 6 of last season. We are very excited to be part of the series supporting New Zealand Drifting and D1NZ," says Powell.