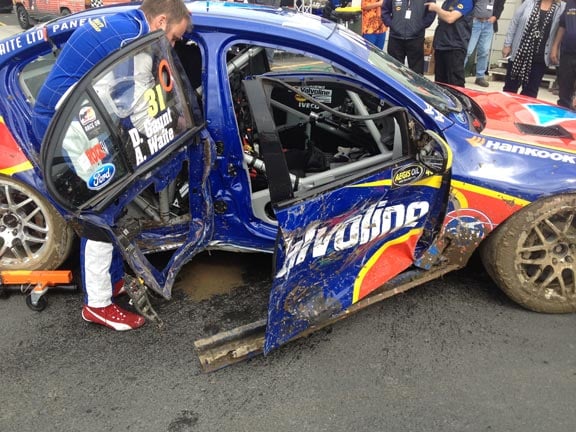 At the last round just over two weeks ago, the Valvoline Ford suffered major damage after being hit by another competitor in the final race. Since then, the car has undergone significant repairs, and with just 2 days before the first practice session on Saturday morning, is ready to be again piloted by drivers Daniel Gaunt and Andrew Waite.
Team Principal Steve Horne says that following the round 5 smash and on closer inspection back at the team's workshop the true extent of the damage was revealed.
"The car was quite badly damaged, with a number of major structural components such as roll bars and chassis rails needing to be fully cut out and replaced," says Horne.
"We were quite lucky it wasn't any worse, and all the replacement structural parts we did need were readily available from the manufacturer Pace Innovations in Australia and could be replaced quite easily."
"By Tuesday afternoon we had the car stripped back and ready for the repairs to the roll cage to be carried out. Two guys from Pace Innovations flew in on the Thursday afternoon, got to work on the car and were finished by Friday morning. Over that weekend, the chassis, new doors and bodywork were painted and fitted back at the shop the following week."
"This week, we've applied new sponsor graphics and given the car the usual between race prep. It's been quite a quick turnaround."
Driving the Valvoline Ford at the time of the crash, driver Andrew Waite says he was thankful for the high levels of safety built into the V8 SuperTourer.
"The crash to me was a real testament to the cars strength and safety. The reason I say this was that it was a hard hit and right in the drivers door and I managed to walk away without a single scratch or bruise. My biggest issue was a muddy race suit from all the mud and water that came into the car straight after!"
"For Dan and I, we'll be looking to come back stronger this weekend, and put on a good show for the large group of sponsors who will be there and all the Tasman fans."
The Tasman Motorsports Group Valvoline Ford is supported by IVECO Trucks, Autotrader.co.nz, Midas, BOC and Colin Waite Panel Beaters.
Round 6 of the 2013 BNT V8 SuperTourers Championship will be held at Hampton Downs, October 19-20