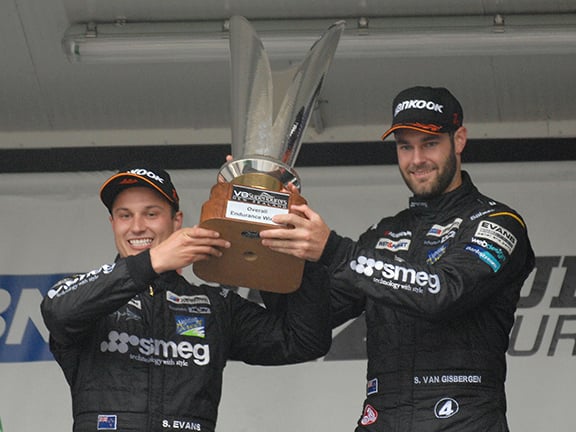 "That's my first championship since Formula Ford, though I did win the international series of the Toyota Racing Series – I'm pretty excited about it," said Van Gisbergen, who is one of the top drivers in V8 Supercars.
It was a totally dominant championship victory, as Van Gisbergen and his old friend Evans won seven of the nine races during the three-round series in their Smeg Commodore during the Fuchs 500 meeting on the weekend.
But the final race was terribly fraught. It started dry then turned to rain, forcing the cars to stop and change to wet-weather tyres, and later the track dried out again.
"I made the call then to pit for slicks – I could see that Murphy was fast on his slicks and I saw the rain go past," Van Gisbergen said. His weather forecasting proved accurate, as the rain stayed away and the track steadily dried out.
Coming out of the pits after the time-consuming pit stop, Van Gisbergen was more than a lap behind leader Tim Edgell, also in a Commodore, with 20 laps to go. As the track dried out Van Gisbergen scythed through the field and hit the lead with a few laps to go.
"That was a lot of fun but it was pretty tough," he said.
Evans also drove superbly and he finished second in the series. Van Gisbergen had scored extra points for his fine qualifying performances.
Aucklander Evans felt he had proved himself and is now looking to Australia to further his career.
Edgell and his Australian co-driver Steve Owen brought their Commodore home third in the final race, and were second overall for the round. They led the final race for a time, as Edgell stayed on wet-weather tyres that were taking a beating on the dry track.
Australian Supercar driver Tim Slade finished third in the championship, co-driving young Aucklander Richard Moore's Commodore, although they finished only 11th this morning after a flat tyre necessitated an extra pit stop. They were second yesterday and eighth this afternoon.
The 2014-2015 BNT NZ SuperTourers championship continues with four sprint-race meetings in the early part of next year.