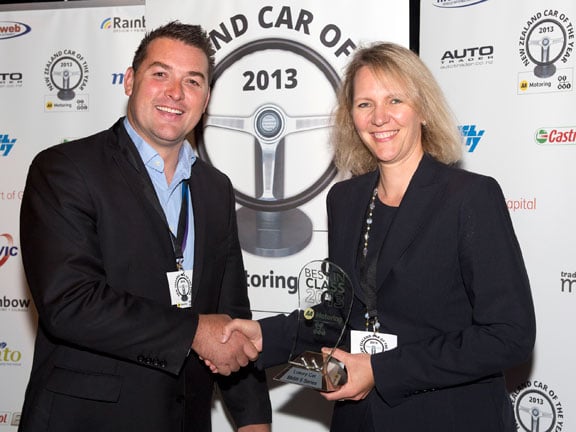 The compact car beat out nine other finalists to take the crown including the Subaru BRZ, the sister car to 2012's Car of the Year, the Toyota 86.
Members of the New Zealand Motoring Writers' Guild voted on the list of finalists to produce the VW Golf as eventual winner. The judges considered styling, performance, handling, economy, comfort, interior design, build quality and finish, practicality, value for money and the important X-factor.
Guild president David Linklater says the VW Golf offers a premium European driving experience and quality at mainstream prices.
"Volkswagen has been giving the compact car market a bit of a push with the Golf," Mr Linklater says.
"While previous models have been popular, the new Golf is priced to compete with mainstream, non-European brands."
AA Motoring Services General Manager Stella Stocks says the New Zealand Car of the Year awards enables the AA to provide consumers with relevant and useful information, including the judges' picks for all vehicle categories – Best in Class.
"It's important that consumers have clear guidance on what New Zealand's motoring experts believe is the best offering in each class to help inform their buying decision."
Separate from the selection of the Car of the Year for 2013, the judges voted on nine categories with 10th being the safest car – the award going to the vehicle that received the highest Australasian New Car Assessment Programme (ANCAP) rating for both crash test performance and pedestrian safety.
The Volvo V40 earned the Best in Class – Safety award.
Ms Stocks says Volvo produced a car with impressive occupant safety performance and a range of safety assist technologies to help minimise the chance of a crash.
Best in Class results:
· Small Car: Ford Fiesta
· Medium Car: Mazda6
· Large Car: Holden Commodore
· Sports/Performance Car: Ford Fiesta ST
· Small/Medium SUV: Mazda CX-5
· Utility: Ford Ranger
· Large SUV: Range Rover
· Compact Car: VW Golf
· Luxury Car: BMW 5 series
· Safest Car: Volvo V40
The top 10 finalists for NZ Car of the Year were:
· Ford Kuga
· Holden Volt
· Holden Commodore
· Hyundai Santa Fe
· Lexus IS
· Mazda6
· Subaru BRZ
· Subaru Forester
· Volkswagen Golf
· Volvo V40
Terry Williams-King presents the award for New Zealand Car of the Year.