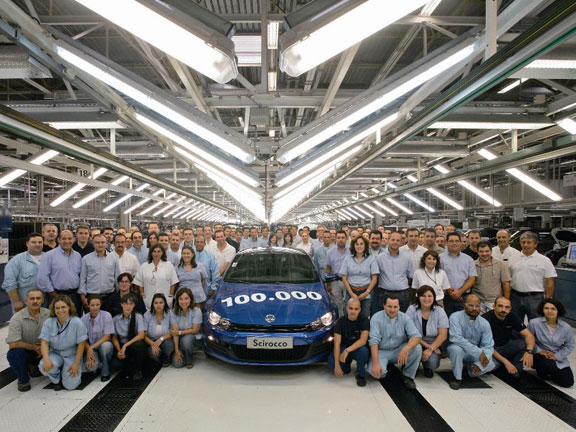 Since launching in 1974, the Scirocco compact sports coupé has been the most successful Volkswagen in its segment: 795,650 vehicles were sold up to 1992. Currently, the third generation is being manufactured.
On Friday, at the Volkswagen plant in Portugal, just two years after its market launch, the 100,000th third generation Scirocco rolled off the production line.
The celebrated model is a Scirocco R 2.0-litre TSI, in Rising Blue Metallic, with a Titan Black interior, radio navigation system, Park Pilot and a tilting sunroof.
In southern Portugal, with 3000 employees, Volkswagen produces the Eos, the new Sharan and, since 2008, the third generation of the Scirocco.
In 2008, the Scirocco claimed the AutoBILD Design Award and was named Car of the Year by Top Gear magazine.
And the Scirocco is looking just as good in motorsport: the racing version of the new Scirocco occupied top ranks at the 24-hour race at the Nürburgring in 2008, and in 2009 the Scirocco GT24-CNG (natural gas) won in the alternative-drive class.
Read our road test of the Volkswagen Scirocco.
See the Volkswagen Scirocco for sale.