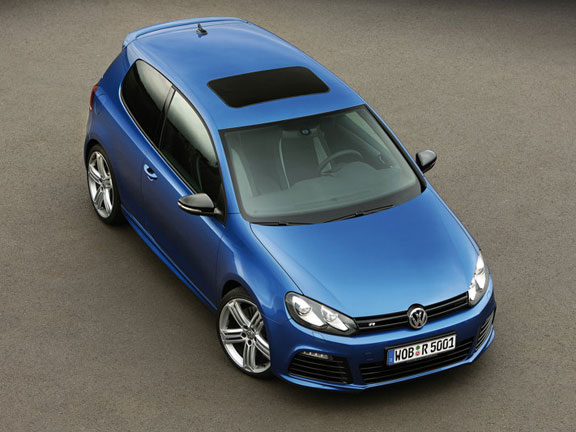 The new model from Volkswagen has caused a stir at the show not only for its good looks. The Golf R is the quickest accelerating production model VW has ever made, storming to 0-100kph in 5.5 seconds with VW's DSG dualclutch transmission.
It features 266bhp, 236lb ft of torque and a new hydraulic four-wheel drive system to react more quickly. Its top speed is electronically limited to 155mph.
The four-wheel drive adds around 80kg in weight, but the latest R is still 35kg lighter than the R32.
Power comes from a tuned version of Volkswagen's 2.0-litre, four-cylinder EA113 engine, the same engine used in the last-generation Golf GTI and the current Audi S3.
It receives a new head gasket, uprated pistons and conrods, and high-pressure injectors, as well as an upgraded turbocharger and a revised intercooler.
Volkswagen says the new model also offers greater efficiency over the R32. Combined fuel economy is reportedly 33.2mpg (versus 26.4mpg) and CO2 emmisions are 199g/km instead of 225g/km.
The Golf R gets lowered suspension (by 25mm), a modified ESP programme with two additional settings for track use, and more responsive steering.
Aesthetically the R gets new front and rear bumpers, LED running lights, a gloss black rear diffuser, central exhausts, sill extensions, xenon headlights and different tail-lights. The cabin finish includes Alcantara seats, gloss black highlights and blue instrument needles.
The Golf R will go on sale in the UK October… let's hope it comes here!