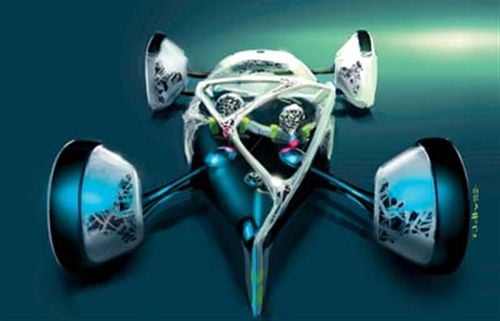 The two-seater Nanospyder concept would use hydrogen fuel cells, solar power, wheel-mounted electric motors and inflatable organic body panels.
It's the work of a team of three young designers – Patrick Faulwetter, Daniel Simon and Ian Hilton – based at the Volkswagen Design Center in Santa Monica. They created the Nanospyder in response to a challenge laid down by Design Los Angeles, a conference set to take place at this month's Los Angeles motor show. The brief – unlike the solution – was simple. To design a vehicle able to make the most of California without harming the environment.
The Nanospyder would be formed out of a latticework of billions of tiny programmable nano devices measuring less than half a millimetre in diameter.
Each can be programmed to be as strong or weak as required meaning active crumple zones can be created. The spine of the vehicle, on to which the rest of the components are attached, remains immensely strong.
Clothing the nano-lattice are panels formed out of a mix of organic materials some of which can inflate to provide further cushioning in a crash. The material doubles as a power source as polysynthesis generates small amounts of electricity. This coupled with hydrogen fuels generates power to drive the tiny electric motors mounted within the hubs of all four wheels.
VW says that the Nanospyder, although purely intended as a concept vehicle, gives an insight into the depth of thinking going into the search for sustainable forms
of modern transport.