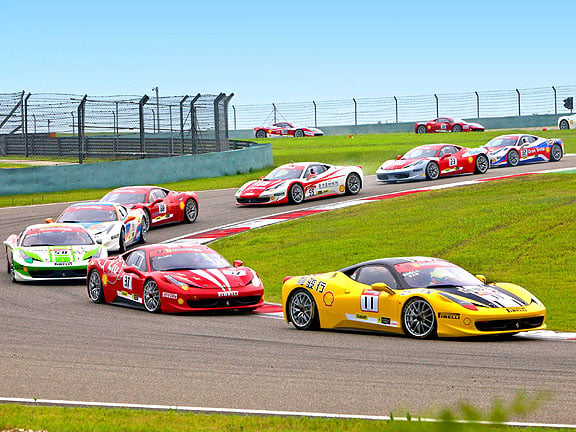 "Getting back into my Ferrari 458 Challenge is not just about defending my championship win," says Steve Wyatt. "The Asia Pacific series provided in its debut season that it provides racing that is challenging, exciting and every bit as enjoyable as European or North American series, as well taking place on a range of interesting tracks that are unlike anything we have here in Australia.
"And," says Steve Wyatt, "with the final races in Italy, the series builds to an amazing climax. Without a doubt I learnt a lot last year and I will be putting those lessons into practice, but I am sure my rivals have also been practicing and learning, too, therefore the fight for the title will be even more intense this year!"
The 2012 Ferrari Challenge Asia-Pacific kicks off at Suzuka on 18 March with the Japanese track also playing host to the first 'Ferrari Racing Day' event of the year. Spectators at Suzuka will also have the unique opportunity to see the private owners of Ferrari Formula One cars take to track and more testing of the unique track-only Ferrari FXX and 599XX supercars showcased during the event.
The Ferrari Challenge Asia Pacific series is spread over five rounds taking place in Japan, China, Malaysia and Singapore. The events planned for this year includes two rounds at the Shanghai circuit (29 April and 10 June), the last of which will also play host to a second 'Ferrari Racing Day' for local Ferrari owners. Following Shanghai the fourth round will be in Malaysia on 31 August. The rounds in the Asia Pacific arena are completed by a new event at the Singapore Grand Prix on 23 September, with the Ferrari Challenge Asia Pacific series a support event for the Singapore Grand Prix.
The success of the series, which debuted in 2011 with the aim of offering local owners the thrill of the track, is clear from the burgeoning number of entrants with more than 25 Ferrari 458 Challenges are expected for the inaugural round at Suzuka. The field is a good mix of both amateur drivers and professionals capable of delivering a very high standard racing right to the line.
Ferrari Challenge Trofeo Pirelli – ASIA PACIFIC 2012 Calendar
Round 1 – Mar 17 – Japan, Suzuki (Ferrari Racing Days)
Round 2 – April 28 -29 China, Shanghai
Round 3 – June 9-10 China, Shanghai (Ferrari Racing Days)
Round 4 – August 31- September 1 Sepang, Malaysia
Round 5 – September 22-23 Singapore, Singapore (Singapore F1 GP)
Round 6 – December (TBD) Italy, Ferrari World Finals