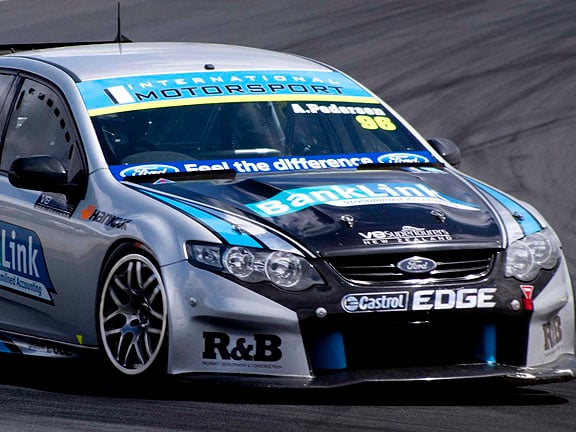 Young gun Ant Pedersen won the 30-lap feature final at the opening round of the much anticipated seven-round series at the Hampton Downs circuit on Sunday.
In brilliant sunshine and in front of a 20,000-strong crowd the 23-year-old from Hamilton ran just outside the top ten early on before incidents in front of him elevated his BankLink-backed Ford Falcon into the top five by the middle of the race and gave him the opportunity to catch up with teammate Jonny Reid in the third quarter.
Reid, who started the final from P3, was gifted the race lead early on after the winner of the first two races, Greg Murphy, tapped fastest qualifier and early race three leader Kayne Scott into a spin at the infield right-hander. Reid then held it until the Safety Car returned to the pits for a second and final time with just two laps to go.
It was Pedersen who got the better of the re-start, however, catapulting himself into a lead he was never to lose as Reid fell into the clutches first of John McIntyre then Scott McLaughlin.
The win is the first major local one for Pedersen, who after graduating from karts raced in both the MINI Challenge and Battery Town Porsche GT3 Cup Challenge in New Zealand then the V8 Development Series in Australia before spending the past 18 months concentrating on his day job as an accountant for Hamilton firm Staples-Rodway.
In fact it was the opportunity afforded by the new series to race in a competitive front-line category in his home country which attracted Pedersen to the new V8 SuperTourer class. And to win on debut was like a dream come true.
"It's pretty cool isn't it?" he reflected as he was surrounded by well-wishers after the feature final. "Obviously, you come into a weekend like this wanting to win but realistically you're in a new car, in a new series and up against some seriously good, professional, drivers. Most of them have also had the benefit of a full year's racing last year when for most of it I've been sitting behind a desk!"
Earlier in the weekend Pedersen was slowed by what he described as a minor issue with his car's gearchange, meaning he didn't qualify quite as well as he felt he and the car were capable of, ending up eighth fastest and finishing in eighth place in the first race of the weekend on Saturday afternoon.
Come Sunday morning and with the gearchange issue fixed Pedersen had already made up several places early in the weekend's second race only to be tapped into a spin by Craig Baird. He was able to continue, but only after he had lost all the places he made up, eventually crossing the finish line in ninth place.
That didn't quite set Pedersen up with the starting position in the final he was hoping for but as it turned out it didn't matter.
Any win is sweet, particularly in such exalted company but for Pedersen and wife Jess this one was extra special.
"Jess and I got married a year ago today," he told a packed press conference after the race. "Before the weekend I apologised about the fact that I would be here but when I did I said I'd try to do something special for her. I guess this is it!"
For teammate Jonny Reid, however, it was a bitter-sweet end to what – in overall terms was a very successful weekend.
Reid – who this year looks set to combine his drive here in the International Motorsport V8 SuperTourer with a second tilt at the Porsche GT3-based Carrera Cup Australia series across the Tasman – was on the pace the minute he climbed into his International Motorsport-built Ford Falcon and with a fourth in the first race, close runner-up spot in the second and runaway mid-race lead in the third the 28-year-old former A1GP star still scored enough points to claim third place – just ahead of teammate Pedersen – in the series points standings.
"Overall I certainly am pleased, very pleased, with the way the weekend has gone," he said. "There's quite an art to these cars and one of the good things with working with a team like International Motorsport is the experience they have which has definitely made it easier for myself and Ant to pick things up. It's also been good to have a guy like my engineer, Mark Johnstone, who has worked with V8 Supercars, on the team."
And Reid's view of the fateful final feature race re-start?
"I got a bit complacent into Turn 1," he said. "Ant got up the inside then Jonny Mac gave me a little tap which sent me out wide into the marbles then I got a whack from behind going into the next corner. That must have broken something in the rear suspension because from then on I had massive oversteer every time I tried to put the power down and I was just hanging on because I knew the race was almost over."
This weekend's inaugural series round was won by expat V8 Supercar star Greg Murphy after victory in the first two races and a hard-won seventh place in the third. That gave the Holden driver enough points for the overall series lead from poleman Kayne Scott and International Motorsport teammates Reid and Pedersen.
With such a positive start the future looks bright for the new V8 SuperTourers New Zealand series which continues with rounds at Christchurch's Powerbuilt Tools Raceway @ Ruapuna Park at Easter and Manfeild at the end of April before returning to Hampton Downs in June.
There is then a two-month break over winter before the series resumes with a round at Taupo Motorsport Park in August, another at Hampton Downs in September and a high-profile final back at Christchurch's Powerbuilt Tools Raceway at Ruapuna Park in late October.
You can follow the progress of Reid and Pedersen on International Motorsport's new website (www.internationalmotorsport.co.nz) or on the team's new facebook page.
Ends
2012 V8 SuperTourers NZ Series Rnd 1 Hampton Downs Feb 17-19
Qualifying
1. Kayne Scott 1:04.472
2. Greg Murphy 1:04.607
3. Andy Booth 1:04.684
4. Scott McLaughlin 1:04.729
5. Jonny Reid (International Motorsport Ford Falcon) 1:04.890 
6. Andy Knight 1:04.902
7. Andre Heimgartner 1:04.921
8. Ant Pedersen (International Motorsport Ford Falcon) 1:05.011
9. Eddie Bell 1:05.030
10. Steven Richards 1:05.040
11. Craig Baird 1:05.050
12. Richard Moore 1:05.072 
13. John McIntyre 1:05.163
14. Paul Manuell 1:05.517
15. Geoff Emery 1:05.720
16. Colin Corkery 1:06.400
Race 1 (20 laps)
1. Greg Murphy 22:02.854
2. Kayne Scott +2.090
3. Andy Booth +3.052
4. Jonny Reid (International Motorsport Ford Falcon) +3.574
5. Craig Baird +5.590
6. Andy Knight +6.856
7. Eddie Bell +7.622
8. Ant Pedersen  (International Motorsport Ford Falcon)+8.683
9. John McIntyre +0.504
10. Scott McLaughlin +11.757
11. Paul Manuell +3.176
12. Richard Moore +17.713
13. Steven Richards +25.864
14. Colin Corkery +27.841
15. Geoff Emery +29.455
16. Andre Heimgartner + 42.209
Race 2 (25 laps)
1. Greg Murphy 27:52.988
2. Jonny Reid (International Motorsport Ford Falcon) +4.645
3. Kayne Scott +7.919
4. Andy Booth +8.932
5. Eddie Bell +9.244
6. John McIntyre +18.647
7. Andy Knight +9.582
8. Paul Manuell +0.826
9. Ant Pedersen (International Motorsport Ford Falcon) +20.986
10. Steven Richards +22.612
11. Richard Moore +25.828
12. Geoff Emery +28.622
13. Andre Heimgartner +28.663
14. Colin Corkery +46.077
15. Scott McLaughlin +1:02.941
Race (30 laps)
1. Ant Pedersen (International Motorsport Ford Falcon) 35:19.293
2. John McIntyre +2.556
3. Scott McLaughlin +2.765
4. Steven Richards +5.805
5. Andre Heimgartner +8.387
6. Craig Baird +8.965
7. Greg Murphy +10.122
8. Andy Knight +11.584
9. Jonny Reid (International Motorsport Ford Falcon) +12.368
10. Geoff Emery +12.816
11. Andy Booth +46.317
12. Eddie Bell +1 Lap
13. Kayne Scott +2 Laps
dnf
14. Paul Manuell +9 Laps, Richard Moore +12 Laps. Colin Corkery +30 Laps
Championship points after Round 1
1. Greg Murphy 625 points
2. Kayne Scott 497
3. Jonny Reid (International Motorsport Ford Falcon) 471
4. Ant Pedersen (International Motorsport Ford Falcon) 455
5. Andy Booth 445
6. John McIntyre 411
7. Scott McLaughlin 380
8. Andy Knight 375
9. Eddie Bell 339
10. Steven Richards 328
CALENDAR 
2012 V8 SuperTourers NZ Series
Rnd 1 Feb 17-19 Hampton Downs
Rnd 2 April 07-08 Powerbuilt Tools Raceway @ Ruapuna Park ChCh
Rnd 3 April 27-29 Manfeild Feilding
Rnd 4 June 01-03 Hampton Downs
Rnd 5 August 10-12 Taupo Motorsport Park Taupo
Rnd 6 September 21-23 Hampton Downs
Rnd 7 October 26-28 Powerbuilt Tools Raceway @ Ruapuna Park ChCh