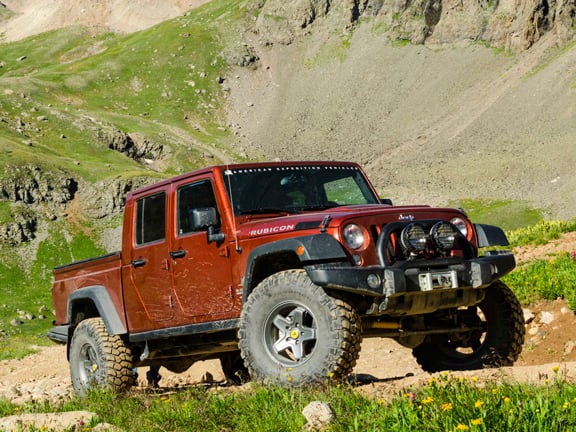 While Jeep itself may be considering producing an official Wrangler Ute on the next generation Wrangler, American Expeditionary Vehicles (AEV), which has been producing extreme versions of the Wrangler for more than two decades, has produced its own Wrangler based Ute called the Brute. New Zealand Jeep importer, Fiat Chrysler New Zealand, has worked with AEV to bring this unique and uniquely capable vehicle to New Zealand, with the first cars in dealerships now.
Fiat Chrysler New Zealand chief executive David Smitherman commented: "With this vehicle we can offer something no other Ute can match: It's a Jeep, with everything that means from off road ability to unique styling and design. AEV have an exceptional reputation for the quality and integrity of their design and construction, so while Jeep Wrangler Brute Ute may not have come down the production line as a Ute, it is and has everything that would be expected of a Jeep, a fact proven by it earning a Chrysler Design Excellence Award."
American Expedition Vehicle has both the ultimate and ideal combination of American homes to the produce the Jeep Brute Ute. The company was founded in Montana, where conditions are tough, vehicles have to be dependable and the spirit of the Wild West lives on. But while AEV vehicles are designed and developed in Montana and clearly bear the imprimatur of the state in which they were conceived, they are born into the world in Detroit and "Motor City" has clearly ensured that all AEV vehicles are built to manufacturer standards.
Based on the four door Jeep Wrangler, the Brute Ute takes the Wrangler's chassis and extends it by 59 cms ahead of the rear axle to extend the wheelbase and another 41 cms in the rails behind the rear axle to extend the rear overhang so as to provide the additional length for a useable Ute box. The entire passenger space is retained, providing comfortable space for five people, and is sealed with solid steel stamped body panels identical in construction to original body. The design even retains the original freedom panels, which are removable for an open air driving experience.
The Brute's 153 cms by 155 cms injection moulded, cored composite load compartment is not only stronger than steel but also considerably lighter and non-corrosive. A skid resistant coating protects the bed's interior and four integrated tie-down anchors keep cargo securely in place. With 25 litres of integrated water storage, built in recovery points, and heavy-duty mandrel bent steel tubing, the versatile rear bumper offers superior load bed protection for the Brute both on and off road.
Tucked below the Brute's load bed is a hidden under mount tyre carrier to securely hold the spare wheel. A hand operated winch allows for easy lowering and removal of the spare wheel when required.
The AEV DualSport Suspension Systems fitted to the Brute Ute manufacturer-level approach to suspension engineering, creating a true dual purpose suspension system that is extremely capable off-road, while also offering unparalleled performance and handling on the road.
The Jeep Wrangler Brute Ute is available in New Zealand based on the Sport and Rubicon specifications, both powered by the award-winning 209 kW Pentastar V6 engine matched to a five speed automatic gearbox. The Sport has the Command Trac four wheel drive system with shift on the fly low range part time four wheel drive with a 2.72:1 low range ratio. The Rubicon has the Rock-Trac four wheel drive system with a 4.0:1 low range ratio.
Over the Sport, the Rubicon, as befits a vehicle named after one of the most famous off-road routes in the world, the Rubicon Trail, has a Dana 44 heavy duty front axle, the extra low range gearbox ratio, Tru-Lok front and rear electric locking differentials, body protecting Rock Rails, an electronically disconnectable front anti-roll bar for extra axle articulation and automatic headlights.
The Jeep Wrangler Brute Ute Sport has a recommended retail price of $114,990 excluding dealer delivery and costs, while the Rubicon version has a recommend retail price of $124,990 excluding dealer costs and delivery. They are both covered by a three year/100,000 km warranty.
"We do not expect the Brute Ute to spend much time in showrooms, given the unique nature of this vehicle and these special launch prices which do not reflect the changing value of the US dollar," says David Smitherman. "This is the vehicle Jeep fans have been calling for and now it's in New Zealand. We are expecting fans to be climbing every mountain and crossing every river to get one. Not to mention after they have bought one!