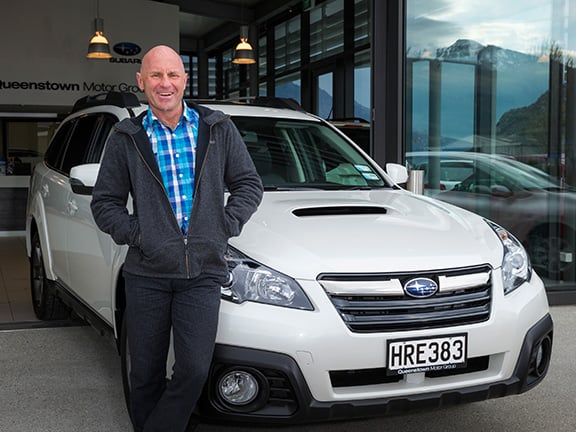 "It's like a life-time sponsorship," said Wallis Dumper, the managing director of Subaru of New Zealand.
Gurney has been the face of Outback in New Zealand since the first model was launched, fronting advertising campaigns and generally promoting the all-wheel drive wagon with the raised ground clearance that led the wave of a new type of cross-over vehicles between traditional station wagons and full on four wheel drives.
When he decided to become a professional multi-sport athlete Gurney said he lusted after an Outback which had just been launched in 1996.
"Then I got a call from Subaru's advertising agency. It was like a dream come true. I was super excited and it didn't take long to say yes," said Gurney, who has recently shifted from Christchurch to Queenstown.
At the time he had a Legacy wagon to reach the more inaccessible places his sport demanded. "It was good, but it needed some more ground clearance," said Gurney.
"The Outback has been ideal. It's enabled me to get to my adventures and do the right training so I could dominate my sport like I did. And it's great on the long open road trips too. It matched my lifestyle."
"The Legacy was fine for getting to ski fields, but the rutted tracks down to rivers or mountain bike trails demanded more."
Gurney believes the sponsorship is a record for an individual in the multi-sport arena because it was based on mutual trust between himself and Subaru of New Zealand.
"We didn't get bogged down in red tape. It was about what we could do for each other and focus on what was really important. I've worked with a lot of sponsors over the years, but the best ones are the ones that come to you."
And it wasn't only in New Zealand where the Subaru relationship bore fruit. "They looked after me when I competed in Australia and the United States," said Gurney.
"Twice I won cars in Subaru sponsored events in Australia. Our relationship was like a family."
Gurney says the sponsorship worked over a long period because both he and Subaru bucked trends and stayed true to themselves.
"There was always the passion and personality there. It probably wouldn't have worked with a big corporate. I've been spoilt all these years in having a new car every few months, but I have my own Outback to continue to put it through its paces," said Gurney.
"Steve was a great brand ambassador utilising his Outback for a whole range of activities off the beaten track,' said Mr. Dumper. "He is forever part of the Subaru family with his new Outback."
Browse Autotrader's range of Subaru Outbacks for sale.