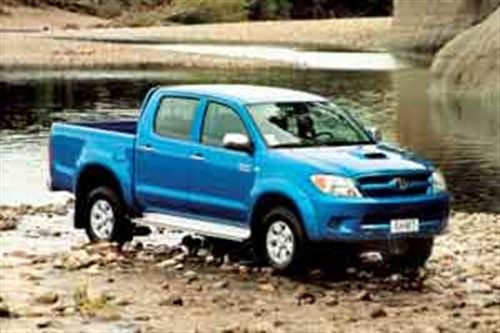 The all-new seventh generation Hi Lux takes a huge step forward in styling, refinement and cabin design in a sweeping change that virtually guarantees the model will remain in the top sales spot.
Hi Lux wasn't the first Japanese ute to appear in New Zealand. Datsun and Mazda had their models on sale well before Toyota.
But within seven years of the Hi Lux first going on local sale in 1976, it had become New Zealand's top-selling light commercial vehicle – a position the Toyota has kept for the last 23 years.
This iconic ute has long been extremely important for Toyota. In New Zealand – and around the world – the Hi Lux is the second biggest selling Toyota, beaten only by the Corolla.
That's despite a lack of interest in utility pick-ups in Japan and the fact that you can't even buy a Hi Lux in the United States, a critical market for Toyota.
Since the first Hi Lux was launched in 1968, 12 million have been sold, and more than 60,000 have been sold here.
In the first 10 years, the model was built from SKD (semi-knocked down) packs in Johnsonville, near Wellington. Another decade saw the vehicle assembled from CKD packs at Thames and Christchurch, and for the last decade the model has been imported fully assembled.
Record local annual sales of 3500 new Hi Lux utes were achieved in 1990 just as Toyota expanded the model range. The Hi Lux accounts for more than half of Toyota's commercial vehicle volume in New Zealand and 15 percent of the total commercial market.
Toyota expects to build at least 500,000 of them in 2005, more than half of them in Thailand.
More Hi Luxes are built outside Japan than in the home country, and New Zealand takes its production from Thailand which is also the largest market in the world for the model, ahead of the Middle East.
Against the stunning backdrop of Lake Hawea near Wanaka, the new range of Hi Lux was introduced to media last week on a perfect autumn day.
Motoi Ito was flown in from Japan and checked out the test course, the day before journalists arrive.
As assistant chief engineer for the new Hi Lux project, he was also in Darwin last month to help launch the ute to the Australians.
He may drive a Crown in Japan but he's passionate about the Hi Lux. After all, he has worked on them for the last 20 of the 39 years he has been with Toyota.
Eight of these years have been spent working on Hi Lux chassis design – and the rigidity of the new model's chassis has increased by 50 percent.
Code named IMV for Innovative Multi Purpose Vehicle, the new generation Hi Lux is described by Ito as moving into passenger car comfort levels.
He also says the model is more durable, even though Hi Luxes already had a reputation for being unbreakable.
IMV is one size larger than the vehicle it replaces, resulting in roomier cabins, increased legroom and extra load space.
The Extra Cab two-wheel drive model's exterior is 155mm longer and both width and height each increase by 70mm.
The 4WD double cab is 400mm longer, and its wheelbase extends by 225mm which means the rear axle of the double cab is now further under the cargo area. As a result, there's no wheel arch intrusion into the cabin.
Toyota styling cues are found in the body design which is more rounded than any previous Hi Lux. Spot the turbo diesel models by the bonnet-mounted air intake.
Apart from the refreshing new body design that marks a real point of difference between Hi Lux and the other Japanese rivals, the main focus is the car-like cabin.
A three-dial instrument panel with circular analogue dials is pleasing on the eye while the ventilation, heating and audio controls are all keenly located in the upper centre section of the dashboard.
A conventional lever on the transmission tunnel between the two front seats replaces the awkward under-dash handbrake.
IMV has been tested for 40 percent offset deformable barrier impact at 64km/h, full frontal impact at 56km/h and side impact at 55km/h. Driver and passenger front airbags and pre-tensioning front seatbelts with force limiters are standard on all versions.
Unladen weights have risen by between 70kg and 80kg, but the more powerful engines more than overcome this penalty. Toyota expects to sell around 4000 of the new model a year, and for the IMV to move ahead in 2WD ute sales where the model has been under pressure from Ford Courier, Holden Rodeo and Nissan Navara.
Four-wheel-drive Hi Lux utes have long dominated that section of the market, and Toyota hopes to capture 40 percent of this segment.
Prospects for New Zealand's most favourite truck of all time gaining an even bigger advantage over the opposition have never been greater.
The late Barry Crump, who fronted those memorable Hi Lux television commercials for 13 years, would certainly approve.
What you get
Ten of the 18 variant range for our market are four-wheel-drives, there are three specification grades, three new double overhead cam multi-valve engines and a price spread from $29,900 to $59,960.
Seven of the 4WDs are 3.0-litre turbo diesel powered, while two of the eight 2WD Hi Lux utes are also diesel.
The entry-level 2WD single cab chassis has the 2.7 litre petrol engine, and the same model with the diesel is $33,900 – a $4000 premium.
There are two grades of 4.0-litre V6 petrol Extra Cab, both with the five-speed auto transmission – a standard $43,250 model and the $46,500 SR5 spec.
Four double cabs comprise a base grade petrol manual ($35,980) and diesel manual ($38,770), and two of the larger V6 petrol SR5s with either manual ($44,590) or auto ($48,420) transmissions.
Step up to the 4WD range and you'll be faced with prices that are around $11,000 more than the 2WD equivalents.
The least costly diesel single cab chassis is $44,900, just $1000 less than the Extra Cab variant. Go to SR5 Extra Cab manual and the retail is $54,640, while the same vehicle with V6 petrol power costs $55,300.
Diesel Double Cab is $49,900 for the manual and $52,240 with auto, while the SR5 Double Cab diesel manual lists at $54,900 – $2900 less than the auto equivalent.
The top of the line SR5 Double Cab petrol V6 is a hefty $56,000 in manual mode and $59,960 for the auto.
If you are not scared off by a mega price tag, choosing from 80 specialised factory accessories can specify the Hi Lux even higher.
Air conditioning is standard on all but the 2WD single cab chassis. While SR5s add an illuminated optitron-type meter with multi-information display.
This shows outside air temperature, average and current fuel consumption, average vehicle speed, cruising range and elapsed time. There's even a compass, a handy aid when off road in the wilds.
SR5 utes include ABS braking (optional on lower grades), body-coloured front bumpers and grilles, chrome door handles, aluminium side steps, power-operated chrome door mirrors and chrome rear bumpers.
They also have as standard a leather-bound steering wheel, an MP3-compatible audio system with six-disc in-dash CD changer and four speakers and driver's seat height adjuster. Cruise control is part of the auto transmission package.
All have ventilated front disc brakes and new engine speed sensitive power assisted rack and pinion steering. The alloy wheels on SR5s are 6-inch by 15 inch with 205/70 tyres, while lower grades are equipped with 6-inch by 14 inch steel rims and 205/70 rubber.
Despite the apparent complexity of the range, there is actually one less model than in the old generation Hi Lux.
On – and off – the road
Higher levels of refinement are immediately evident, with lower noise, vibration and harshness, and quieter mechanicals.
Although the frontal area is larger, air resistance has decreased and wind noise is subdued.
Tighter panel gaps are obvious and the evaluation Hi Lux utes had nary a squeak or rattle over rough and ready farm tracks in Central Otago.
The model exhibits typically high Toyota quality standards and refused to be phased by the drive route through the wilderness of the 2,300 hectares Dingleburn Station on the remote eastern shores of Lake Hawea.
The longer 3,085mm wheelbase is complemented by a wider front and rear track, and this larger footprint provides better driveability.
Unladen, the ride is still firm and jiggly, but these are the only signs you are driving a commercial vehicle with an impressive carrying ability.
A new double wishbone front suspension with coil springs replaces the old torsion bar arrangement.
Because of this change, designers were able to lower the floor height, and the springs, front ball joint and steering control arm are better protected from off-road damage.
Leaf springs and a live axle are retained at the back, but the leaves are longer for improved suppleness. The new steering offers better feel and is more responsive.
Minimum ground clearance for 4WD versions is 212mm, or 31mm more than the 2WD models.
Both transmissions are smooth and easy to operate, but fourth and fifth gears in the manual gearbox are extremely close.
The new engines are a real talking point. Least powerful and smallest in capacity is the 2694cc in-line four-cylinder 2TR-FE petrol unit which turns out 118kW and 241Nm of torque.
Compared to the outgoing Hi Lux with an identical capacity petrol engine, this is a 14kW boost in power and a rise of 13Nm in torque.
For a marked performance increase and a boost in refinement, the new 3956cc 1GR-FE V6 petrol inherited from the Prado has variable valve timing. It offers an impressive alternative, albeit with an obvious fuel consumption penalty.
The V6 develops 175kW of power – a solid 51kW more than its 3.4-litre V6 predecessor. The 376Nm of torque combines superbly with the five-speed electronically controlled automatic gearbox.
Even the 2982cc 1KD-FTV turbo diesel is unable to match the torque of the V6 petrol, although its 376Nm are achieved at a low 1400 revs, unlike the V6 that peaks at 3800rpm.
The direct injection, common rail 3-litre, 120kW diesel produces considerably more power and torque than the single overhead cam, eight valve diesels in the superseded model and the new variable vane turbo means virtually no turbo lag.
Having the option of an auto diesel for the first time is sure to broaden the Hi Lux customer base. Unlike the five-speed auto on the V6 petrol, the diesel uses a four-stage automatic.
– Donn Anderson
Toyota Hi Lux specifications
Engines
Petrol: 2694cc, in-line 4-cylinder, 118 kW at 4800 rpm. 241 Nm at 4000 rpm. 3956cc, V6 quad cam, 175 kW at 5200 rpm. 36 Nm at 3800 rpm.
Diesel: 2982cc, in-line 4-cylinder, 16-valve, DOHC with turbocharger. 120 kW at 3400 rpm. 343 Nm at 1400 rpm.
Transmissions
5speed manual, 5-speed automatic petrol, 4-speed automatic diesel.
Suspension
Front: independent double wishbone, coil springs, stabiliser bar
Rear: leaf spring, rigid axle.
Dimensions
Length: standard cab, 4975mm; Extra Cab/Double Cab, 5130mm (5255mm 4WD)
Width: standard cab,1760mm; Extra Cab/Double cab, 1835mm
Height: 2WD, 1680mm; 4WD, 1795mm, Double Cab, 1810mm
Wheelbase: 3085mm.
Fuel tank capacity: 76 litres.