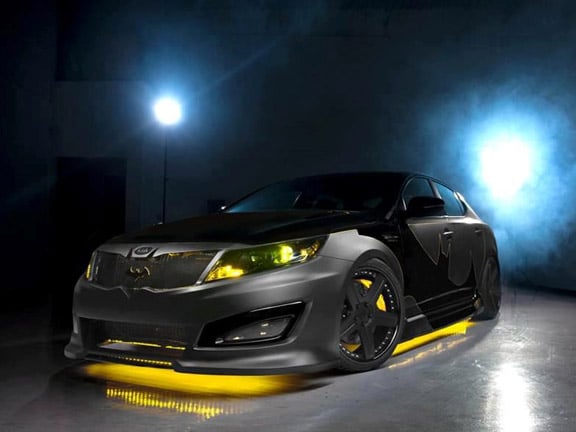 It's a special customised Optima sedan that has been created by Kia Motors USA to help boost awareness of comic book publisher DC Entertainment's "We Can Be Heroes" campaign, a relief effort to fight hunger in the Horn of Africa.
The Optima Batmobile is the first of eight individually customised Kia vehicles, based on different characters from the DC Comics 'Justice League', that will appear as part of the campaign at various motor shows and comic book conventions across the United States over the coming year.
Legendary comic book artist and DC Entertainment Co-Publisher Jim Lee has collaborated with Kia designers on the styling of each car with his vision for each iconic member of the Justice League.
The Optima is one of Kia's top-selling vehicles and Batman is among the most popular super heroes in the DC Universe, which makes for a natural combination. The Batman-themed Optima, which features a 274hp turbocharged 2.4-litre engine, captures the dark and mysterious personality of the Dark Knight.
The exterior bodywork features a black matte/gloss finish and is enhanced by a dramatically lowered suspension, a ground effects kit and upgraded Ksport brakes. Custom-designed 20-inch black wheels complement the design and a performance-tuned exhaust delivers an extra boost of power.
The front grille is shaped like a Bat wing and there are yellow accent LEDs throughout the vehicle — the HID headlights even feature an etched Bat signal design. The interior gets custom leather and suede upholstery, complete with stitched Bat wing motifs. Those looking for the ultimate in Batman memorabilia will appreciate the Bat suit and cowl mounted in the trunk, along with the utility throwing Bat wings concealed in the centre console.
The Batmobile Optima will be followed by other Kia vehicles, including the Sorento, Sportage, Soul, Rio and Cerato, tailored to match the key attributes and character traits of Superman, Wonder Woman, Green Lantern, The Flash, Aquaman and Cyborg.
Once the cars have completed their public tour of shows and conventions, they will be sold off in a high-profile auction, with proceeds going to the "We Can Be Heroes" fund.
"It's a very imaginative campaign and a fun way to draw attention to a serious and a very worthwhile cause," says Todd McDonald, General Manager of Kia Motors New Zealand, "as well as highlighting the innovation in design that has become a hallmark of Kia product in recent years."
More illustrations of the Batman Kia Optima and details of the "We Can Be Heroes" campaign can be viewed on the Kia Motors USA Facebook page