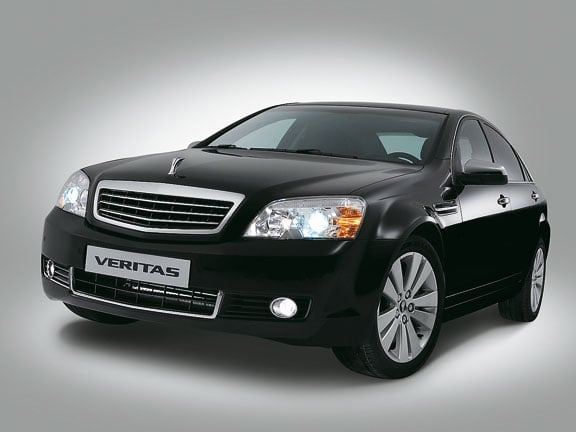 Holden is out to set the South Korean luxury car market on its ear with a GM Daewoo-badged version of the Statesman/Caprice.
It's building the GM Daewoo Veritas at its Elizabeth, South Australia, factory. The car's Global V6 engine comes from Holden's engine plant in Port Melbourne, Victoria.
GM Holden chairman Mark Reuss says the Veritas is "a great addition to Holden's export portfolio, demonstrating the company's reach and flexibility".
Reuss said GM Daewoo drew on Australian expertise and resources for a vehicle tailored to meet the needs of the Korean market.
"GM Holden develops its large cars to be world class and we're seeing that paying dividends with new export programmes like [this]."
Holdens are exported to every continent (except Antarctica) and sold under Holden, Chevrolet, Pontiac, Vauxhall and GM Daewoo badges. 
"Exports are an increasingly important part of our business and Veritas again proves we have the capability to design, engineer and build vehicles for a wide range of consumers and markets," says Reuss.
Based on the Commodore platform (GM's Australian-developed Global Rear Wheel Drive architecture), the Veritas runs a 3.6-litre Alloytec V6.
It has a five-speed automatic transmission with fully optimised gear ratio settings, Active Select and Sport Shift.
The car is based on the L4X concept shown at the 2007 Seoul Motor Show, and GM Daewoo says it expects it to "redefine the premium image of a large sedan in Korea".
GM Daewoo says the Veritas will have segment-leading legroom in the Korean market as well as luxury features including massaging rear seats, electric-adjustable headrests and LCD screen and headset. Korean customers are well known for their high expectations of rear passenger comfort and features.
GM Daewoo CEO, Michael Grimaldi, says the car reflects the company's determination to "take Korea's large sedan segment to an entirely new level.
 "This luxurious rear-wheel drive sedan offers excellent driving performance while ensuring unmatched interior comfort, spaciousness and safety.
"Veritas represents the start of a new era for GM Daewoo, as we begin to replace our entire current product line-up with new segment-leading models between now and 2010."
Veritas is the second export arrangement for Australian-built vehicles between GM Daewoo and GM Holden. In 2005, GM Holden exported nearly 2000 of the previous generation WL Statesman to Korea marketed as the GM Daewoo Statesman.