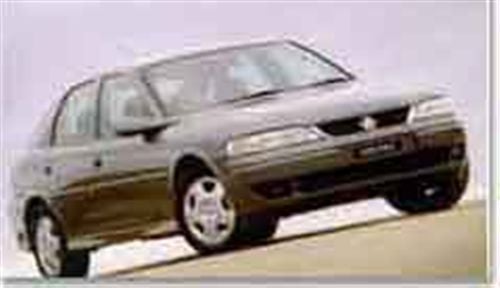 The 2001 editions of the JS Series II Holden Vectra sedan and hatch offer the choice of a new high-tech, low emission 2.6 litre ECOTEC V6 engine (CD models) or the four cylinder 2.2 litre ECOTEC 4 engine, in hatch and sedan body styles.
Both engines can be teamed with a close-ratio five-speed Getrag manual or four-speed electronically-controlled automatic gearboxes.
Safety system improvements include across-the-range ABS anti-skid braking, traction control and the introduction of active head restraints.
An exclusive front bumper fascia with integrated fog lamps distinguishes V6 Vectra CD models. Five-spoke, 16-inch alloy wheels are optional on all Vectras and all feature body-coloured side mouldings. Vectra's selection of eight paint finishes includes four new colours – Jazz Blue, Basalt Grey, Canopy Green and Diamond Black.
Holden says the changes reflect European automotive trends.
The new 2.6 litre quad cam, 24 valve ECOTEC V6 engine offers more operating refinement, better driveability and considerably reduced exhaust emissions.
Compared with the 2.5 litre V6 engine it replaces, peak power is unchanged at 125kW at 5800rpm, but a 20Nm torque improvement – to 250Nm at 3600rpm – delivers the increased power across the low to mid-engine operating range.
Like cars sold by luxury European marques such as BMW and Mercedes-Benz, V6-powered Holden Vectras are equipped with drive by wire electronic throttle control, which eliminates throttle and cruise control cables. An electrical signal is transferred from the accelerator, via the engine's electronic control unit, to the air inlet throttle mechanism. The system enhances driveability by allowing more precise control of throttle movements, which in turn lowers exhaust emissions and offers reliability gains through the minimisation of mechanical wear.
The 2.6 ECOTEC V6 also features a coil over plug ignition system for more efficient and direct-acting spark control, revised pistons and a close-coupled catalytic converter that reaches operating temperature more rapidly.
Vectra sedans and hatches powered by the 2.2 litre, twin camshaft,16 valve ECOTEC 4 engine feature suspension tuning expressly for Australian road conditions, enhancing ride comfort over uneven surfaces.
Given higher performance capabilities and differing calibration requirements due to added engine weight, V6-powered Vectra CD sedan and hatch retain their European-specification suspension package. Characterised by a slightly firmer ride, the V6 Vectra's European-flavoured chassis dynamics are targeted to match those of prestige imported competitors.
The active head restraints cushion the backward jerking motion of the head in an impact. The system operates mechanically and is activated by a lever when the weight of the body is forced against a pressure pad in the seat back in the event of a rear-end collision. This causes the lever to move the head restraint upwards and forwards to meet the front seat passenger's head as it moves back, significantly reducing the strain placed on cervical vertebrae.
Improvements to door padding increase side impact protection, and the Vectra GL model now features three rear head restraints.