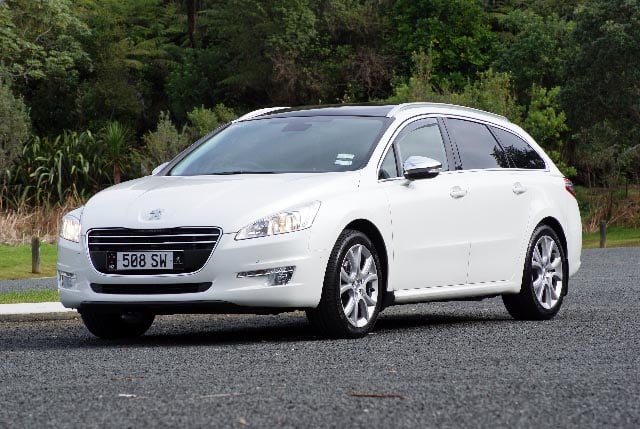 And I do rather like it, especially in SW (which the company tells us doesn't stand for Station Wagon, even though it is one) guise. Does this mean I'm getting old?
Hopefully not. I think it just means I'm old enough to appreciate serious advances in quality and dynamics. Previous Peugeot mid-sizers have always been engaging, but the 508 manages to blend its talents with an undercurrent of substance and quiet authority that demands you take it seriously.
That's obvious even in the mid-range models. Our $57,990 SW Allure is the entry point to the 508 diesel range (sedan $54,990), employing a familiar and well-proven 120kW/340Nm 2.0-litre HDi/six-speed automatic gearbox combination. Good hardware and efficient too, with Combined fuel economy of 5.7 litres per 100km.
No surprises there, except that the car just feels so good on the road. Not simply due to the powertrain, but also the confident steering, poised chassis and excellent ride. It just feels like a remarkably well-rounded dynamic package and that's not something you'd always say of a Peugeot.
If you want to go the next step there's always the excellent GT model, which has a larger 2.2-litre HDi engine and bespoke front suspension design. It injects more sportiness into the package without taking away too much refinement, although at $68,990 you do have to pay for the privilege.
Here's something else that might surprise: the French brand has a reputation for fairly approximate interior fit/finish that it's slowly trying to divest itself of. The 508 is the brand's single biggest advance in this area, with a sense of quiet style and a glorious range of soft-touch plastics in the cabin. Classy.
It's not perfect. The instrumentation is clear and attractive, but the main control systems are carried over from other models and are therefore a tad confusing. But no complaints about the equipment levels: the Allure SW offers part-leather upholstery, parking radar front and rear with an 'assist' function that lets you know whether a space is large enough, glass roof, four-zone air conditioning, blinds for the rear-side windows and powered tailgate.
Should you then? The 508 is one of those cars that bridges the price gap between the top-end mainstream machines (Ford Mondeo, Mazda6) and the established prestige makes like Audi and BMW. It now offers enough of the sensible features and value of the former with the quality and quiet authority of the latter, to be a serious contender.