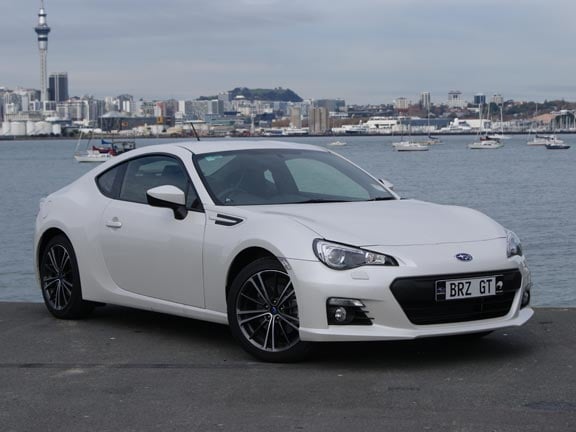 Base price: $48,990
Powertrain and performance: 2.0-litre horizontally-opposed petrol four, 147kW/205Nm, 6-speed manual, rear-drive, Combined economy 7.8 litres per 100km.
Vital statistics: 4240mm long, 1285mm high, kerb weight 1256kg, luggage capacity 218 litres, fuel tank 50 litres, 17-inch wheels on 215/45 tyres.
We like: Character of boxer engine, superb chassis, value for money.
We don't like: Cheap cabin materials, afterthought Bluetooth system.
How it rates: 9/10
WHAT DO I NEED TO KNOW?
This little coupe is brilliant regardless of which badge is on the front.
As you will no doubt know, the Toyota 86 and Subaru BRZ are the product of a joint venture between the two companies. The Toyota sells in greater volume and is available in a wider range of models, while the Subaru is sure to be a rarer beast.
Up to you whether that's a positive or negative. But Subaru perhaps has more of a claim on the car: Toyota headed up the project and paid more of the bills, but the 86/BRZ are built by Subaru, ride on a Subaru platform and have a Subaru boxer engine (albeit with a Toyota direct-injection fuel system).
Can you tell them apart? If you're dedicated. The cars have unique front bumpers with different-shape air intakes. Oh, and different badges.
WHAT'S IT LIKE TO DRIVE?
Sublime. Not just for a budget sports car, but by any measure.
As with the Toyota 86, the BRZ is all about finesse and fine-tuning: it's not a fast car, but the boxer engine is crisp and so full of character. The steering is accurate and full of feel. The chassis is beautifully balanced and has just enough grip to be entertaining without intimidation.
The BRZ is as delightful and engaging at low speed as it is when you're cranking along at open-road speeds. Could it be improved? Subaru will certainly try, for it's working on a genuine STI version that's faster and more aggressive.
As it stands, Subaru New Zealand can sell you a range of STI-branded accessories right now, including suspension and exhaust components. All good stuff and the BRZ certainly has the chassis reserves to handle it all.
But for now, nothing beats the simplicity and purity of the standard model.
IS IT EASY TO LIVE WITH?
The BRZ is incredibly compact and therefore has its advantages in city driving. The boot is a decent size and there are some small rear seats for occasional use.
But you have to live with the same compromises as any other compact coupe. The cabin is low-slung and very snug, so therefore it's tiring to get into and out of. The modest quality of interior fit/finish also serves as a reminder that this is still a car built down to a price.
Visibility is not brilliant either – either in town or on the open road, where the low ride height means that you cannot always see as far down the road as you would like.
None of the above really counts against the BRZ. It's standard stuff for a proper sports car and the BRZ is certainly one of those.
Shame about the tacky add-on Bluetooth system, though. While Toyota has Bluetooth integrated into the audio system on its 86, Subaru has to make do with an external setup that looks and feels a bit aftermarket.
SHOULD I BUY ONE?
If you're in the market for a genuinely sporting two-door at a budget price, there's really only one alternative to the BRZ (it's a Toyota in case you haven't been paying attention).
If you've ever thought about owning a car like this, now's the time: standout models like this don't come along that often.
EQUIPMENT CHECKLIST
Air conditioning: Dual climate
Audio: CD, iPod compatible
Automatic lights/wipers: Yes/No
Blind spot warning: No
Bluetooth: Yes
Cruise control: Yes
Driver footrest: Yes
Gas discharge headlights: Bi-xenon
Head-up display: No
Heated/ventilated seats: Yes/No
Keyless entry/start: Yes/Yes
Lane guidance: No
Leather upholstery: No
Parking radar: No
Power boot or tailgate: No
Power seat adjustment/memory: No
Rear ventilation outlets: No
Remote audio controls: Yes
Satellite navigation: No
Seat height adjustment: Yes
Self-parking technology: No
Split/folding rear seats: No
Steering reach adjustment: Yes
Stop-start: No
Trip computer: Yes
Find a Subaru BRZ GT HERE