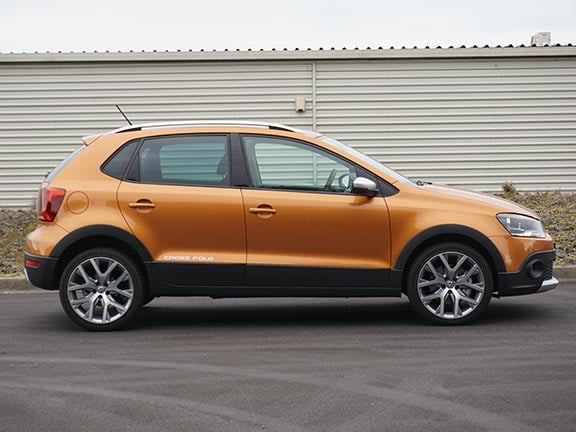 Base price: $30,490.
Powertrain and performance: 1.2-litre turbo petrol four, 81kW/175Nm, 7-speed automated gearbox, front-drive, Combined economy 4.9 litres per 100km, 0-100km/h 9.8 seconds.
Vital statistics: 3987mm long, 1488mm high, 2470mm wheelbase, luggage capacity 280-952 litres, fuel tank 45 litres, 17-inch alloy wheels on 215/40 tyres.
We like: Fizzy powertrain, classy cabin, good specification.
We don't like: Garish styling detail, less incisive on the road than Polo. How it rates: 7/10
WHAT DO I NEED TO KNOW? It's easy to poke fun, but supermini-sized crossover vehicles are a burgeoning market trend. So too are crossover vehicles that don't have four-wheel drive – which sounds silly, but makes sense if you accept that many buyers simply like the look and have no intention of taking their vehicles into the rough.
Volkswagen can justifiably give a knowing shrug to all of this. It's been making the CrossPolo – a high-riding, après-off-road version of the Polo hatchback – since 2008 and has never given it the pretense of all-wheel drive.
The latest model, launched last year, continues that theme.
WHAT'S IT LIKE TO DRIVE? Really good fun, thanks to VW's knack of producing lively small-capacity engines and quick-shifting automated dual-clutch (DSG in company-speak) gearboxes.
The CrossPolo has tiny 1.2-litre engine, but it's high-tech with turbocharging and direct injection. The standard Polo has the same capacity, but a little less fizz than the CrossPolo: 66kW/160Nm plays 81kW/175Nm. At launch last year, VW made noises about the CrossPolo being the range's "performance flagship" until the GTI arrives, which is drawing a rather long bow. But it is undeniably good fun, with great throttle response, a lot of energy up top and a transmission capable of clicking through gears with impressive speed. The CrossPolo is a great urban assault vehicle.
There's some opportunity cost in the CrossPolo's higher ride height and more softly sprung suspension. It rides well at low speed, but there's more roll in faster corners and it's more easily coaxed into understeer. With another 30mm of ride height you get a better view out, though.
IS IT EASY TO LIVE WITH? Last year's Polo facelift brought a new interior to the model and really moved this little car upmarket. The styling is typically conservative but the fit and finish is faultless. Polo is facing some still competition from newer superminis, but in terms of feel-good factor from the cabin it's right on point.
Aside from an exterior package you really can't ignore, the CrossPolo gets some extra interior equipment over the Polo Highline. The most significant is the so-called Composition Media system with a larger 6.5-inch touch-screen. To really get the benefit of that you need to upgrade to satellite navigation; sadly that's an extra cost, although at $750 it's cheaper for CrossPolo than for the standard models ($1250).
SHOULD I BUY ONE? We can talk about market trends all day, but in reality a tiny hatchback with pseudo-off-road styling isn't going to appeal to everybody. Especially in orange as tested (there are more subtle colours).
However, the CrossPolo is more than simply a styling exercise, so there's a bit more to consider than whether you like the looks. It has more power than other Polo models and more equipment. VW New Zealand has even managed to reel in the price over the years – it's gone from a frankly ridiculous high-$30k proposition to $30,490. At a $2000 premium over the Polo Highline, that's pretty good value.
EQUIPMENT CHECKLIST
Blind spot warning: No
Lane guidance: No
Cruise control: Yes
Automatic lights/wipers: Yes/yes
Intelligent headlights: No
Parking radar: Yes with dashboard graphic
Self-parking technology: No
Head-up display: No
Satellite navigation: $750
Keyless entry/start: No
Stop-start: No
Air conditioning: Climate
Heated/ventilated seats: No
Power seat adjustment/memory: No
Leather upholstery: No
Power boot or tailgate: No
Split/folding rear seats: 60/40
Browse Autotrader's range of VW cars for sale.