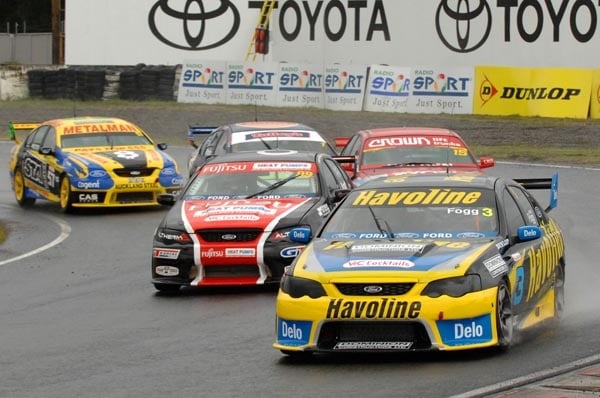 Angus Fogg led all the way in a race that was literally a race of two halves in the opening heat of the Manfeild round of the NZ V8s Championship this afternoon.
He led from pole in the opening laps, run under lowering skies, on a dry track.
And after officials red-flagged the race when heavy rain began lashing the Manawatu circuit, Fogg – now with treaded wet weather tyres on his Caltex Havoline Ford Falcon – led again, gradually opening a gap that peaked at 3.5 seconds.
He had a slight moment on the final corner, but Kayne Scott (Fujitsu Ford Falcon) wasn't close enough to cause him trouble, and he crossed the line 0.5 seconds ahead of the Hamiltonian.
Scott, meanwhile, held off a determined challenge by Paul Manuell (Orix Holden Commodore) throughout the wet half of the ace.
Scott hugged the pole line, braking on the apex and driving out square to deny Manuell the chance to pas on the inside line.
Series leader John McIntyre (BP Ultimate Falcon) came home fourth, ahead of Clark Proctor's Metal man Ford and Andy Booth's Tasman Motorsport Holden.
Fogg has now cut McIntyre's series lead from 105 to 84 points going into tomorrow's two races.
The win was Fogg's first of the new season and he said that luckily, his car was good both in the dry and the wet.
About four laps into the wet section of the race, the track was starting to dry, and he was looking for wet patches to run in to keep the softer compound wet weather tyres cool.
"The rears were starting to get mushy."
Scott said that if the race had remained dry he was pretty sure "we could have got (Fogg). With a few more laps we would have had a bloody good look at him."
He said he hadn't felt unduly pressured by Manuell in the closing laps.
"I was driving well within myself."
Manuell, who scored his first podium of the 2007/2008 series, says the Orix Holden has always had the pace. It's just a matter of achieving consistency and "putting it together on the day."
"We had the pace in (the last round at) Taupo, but it's very hard to get consistency out of these cars.
"(Today) we had a pretty good car out there."
Photo caption: Fogg leads Scott at Manfeild today.