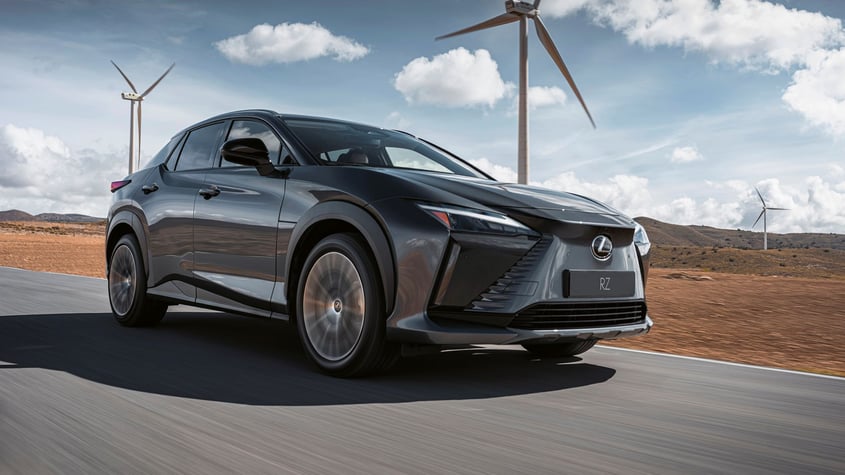 The Lexus RZ 450e is Lexus' completely new, designed from the ground up, battery electric vehicle (BEV), and local pricing has now been confirmed.
Lexus is accelerating its BEV development with a new approach as the marque continues to lead the charge when it comes to electrified options. Specifically, it will develop next-generation BEVs by 2026, with a focus on optimising everything in the car for the battery electric powertrain.
Vice President of Lexus New Zealand, Andrew Davis, says Lexus is working towards the goal of 100% BEV models by 2035, with a full range of BEVs across the entire Lexus range by 2030.
"The new electrified Lexus RZ is our future of electrification and will continue to accelerate our carbon reduction journey. From the brave design through to the exhilarating performance it will be a delight to drive. And of course, being a Lexus, the build quality and luxury interior will be second to none," he says.
The Lexus RZ 450e is the halo model of this new approach – a new design, sleek, sharp lines and an aerodynamic silhouette express the vehicle's athletic personality. DIRECT4, the Lexus avant-garde all-wheel drive system, delivers a refined, human-centred driving experience that heightens the senses.
The RZ will be driven by a 150kW front motor and 80kW rear motor with the power sourced from a lithium-ion 71.4kWh battery.
While the side profile of the RZ will be unmistakably Lexus, the RZ front, and rear will feature a new Lexus Electrified look with sleek lines and sharply angled lights. The RZ is built on a new e-TNGA platform, which gives Lexus the flexibility to create a range of vehicles with different motor sizes, battery types and drive systems.
In production now and due in New Zealand in May 2023, the RZ 450e will be available in New Zealand in two variants – Core and Dynamic – with an optional two-tone exterior colour scheme available for the Dynamic variant.
Both variants adopt new eAxle technology integrating the transaxle, motor generator, and inverter with 230kW total output (150kW front and 80kW rear motor). The DIRECT4 all-wheel drive system controls front and rear drive force according to driving and road surface conditions. All variants include 750kg braked/unbraked towing.
A thin, high-capacity 71.4kWh battery pack is placed flat under the floor, to achieve a low centre of gravity. RZ includes an 11kW internal charger and is three-phase charging capable. The approximate driving range is 470km (NEDC).
The Dynamic variant adds two dozen more features including 20" black and machined faced alloy wheels (up from 18" for the Core), a power dimming panoramic roof, adaptive high-beam headlights, Ultrasuede® seat fabric (Synthetic Leather for the Core) and a head-up display.
There are six exterior colour choices – Ether Metallic, Sonic Copper, Graphite Black, Sonic Shade, Sonic Quartz, and Sonic Iridium – as well as three two tone choices for the Dynamic.
The new RZ450e is priced at:
Lexus Retail Price (LRP)
Core: $141,600
Dynamic: $151,600
Bi-Tone Option: $2000