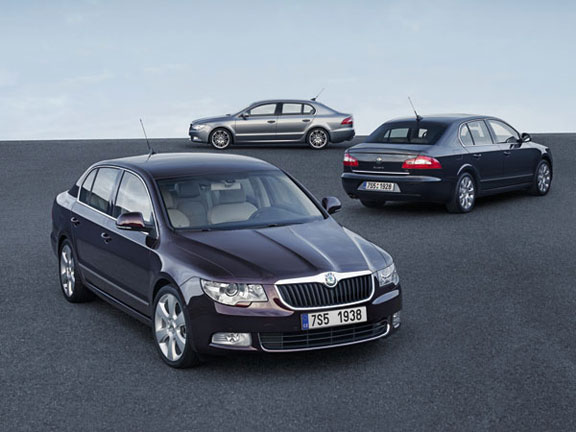 The new Superb offers class-leading interior space, with more rear leg room than even an S-class Mercedes. Not only is the space for driver and passengers enormous, the boot volume of 565 litres (with rear seats up) is class leading.
Adding to the appeal of the new Superb is TwinDoor, designed and patented by Škoda engineers and unique to Škoda. At the touch of a button, TwinDoor enables Superb to be either a hatch or a sedan, thereby suiting the needs of a wider range of customers.
A large number of safety features are standard on the new Superb. All models have nine airbags: driver and passenger front and side airbags, curtain airbags, a driver's knee airbag and rear seat side airbags; ESP is standard across the range. This has helped Superb achieve five stars in Euro NCAP testing for driver and occupant protection.
With an indicative starting price of under $50,000, the new Superb represents fantastic value for money. Customers will enjoy unrivalled levels of specification, no matter which of the three models they choose.
The three models are a 2.0 TDI diesel with 103kW of power and 320Nm of torque; a second 2.0 TDI diesel that utilises common rail technology and has outputs of 125kW and 350Nm; and a 3.6 V6 petrol fitted with full-time four-wheel-drive and 191Kw of power. All three models come standard with a 6-speed DSG gearbox.
Standard specification on the Superb 2.0 TDI 103 includes features that offer drivers and passengers a high level of safety (9 airbags, ESP, a vehicle immobiliser with alarm, fog lamps, automatic lights, multifunction steering wheel and Isofix fittings throughout); a high level of comfort (dual-zone climate air conditioning, auto dimming heated exterior door mirrors, maxi-dot information display and leather steering wheel); and a high level of convenience and style (16" alloy wheels, cruise control, rear parking sensors, an 8-speaker CD stereo with input for an iPod and many different storage features).
The Superb 2.0 TDI 125 offers further enhancements that includes (amongst other items): Bi-Xenon lights with AFS, full leather upholstery, heated front and rear seats, electric front comfort seats, 17" alloy wheels, parking sensors in the front, tyre pressure monitoring, integrated 6-CD touch screen stereo with 10 speakers and front fog lamps with corner function.
The 3.6 V6 includes all of the above items, plus 18" alloy wheels and wood dash inlays.
These features and more make the new Superb one of the best equipped cars in the upper-medium sector. The full list of specification items can be seen in the attached specification sheet.
The indicative pricing for the new Superb is:
Superb 2.0 TDI 103 $49,990
Superb 2.0 TDI 125 $57,990
Superb 3.6 V6 4X4 $66,990
The final pricing will be confirmed at the time of launch in the fourth quarter of this year.
James Yates, Škoda New Zealand General Manager sums up the new Superb this way. "The Superb offers Škoda's trademark value for money, interior spaciousness and engineering solutions designed with customers' needs in mind in a fantastic package. Beautifully designed both inside and out, the new Superb will make a great choice for retail and fleet buyers.
"In today's economic climate where value and economy is king, the Superb offers a mainstream car that delivers value in every way. When I look at the pricing and equipment compared to Superb's competition, I am especially pleased. It's the right car for today's challenges and will underscore yet again that Škoda is, indeed, the manufacturer of Simply Clever solutions."