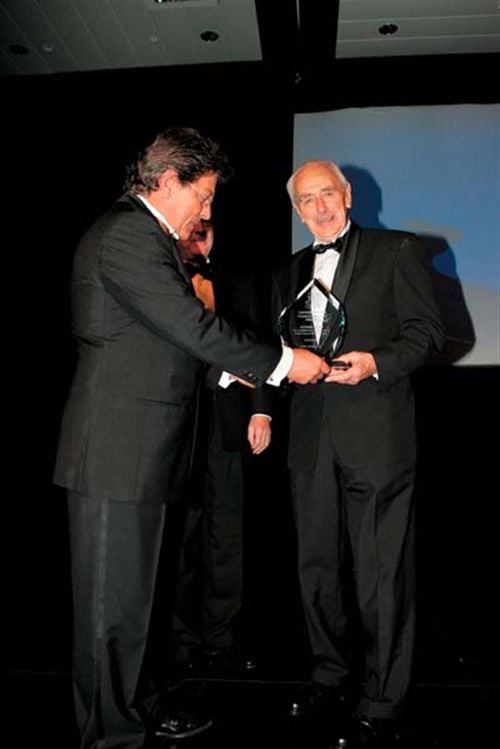 Nicholls, a former fighter pilot and trained accountant, has a family GM business in Gisborne.
He was instrumental in writing the Motor Vehicle Sales Act in 1975, and a year later was the first president of the MVDI.
In 1989, he became the first employee of the IMVDA where he became chairman and chief executive.After retiring he became the patron of the IMVDA.
He is still actively involved in the industry as a consultant and statistician, and is well respected in Government circles for his accuracy and attention to detail with legislative issues.
The Supreme award recognised contributions over 20 years to the vehicle import trade.
Other finalists were Rod Milner and Graham McVicar.
Aucklander Peter (PJ) Johnston took the award for Outstanding Imported Motor Industry Personality. Johnston runs Genuine Vehicle Imports in Auckland.He has 35 years in the motor trade, starting as a panelbeater in Hamilton. He was a founding member of the IMVDA, its original North island chairman, and was one of the founding directors of VINZ.
Other finalists were Dick Gray and Phil Pacey.
West Auckland dealership Croydon Wholesale was judged best large North Island dealer, the judges saying it displayed "excellent community involvement, outstanding staff retention with almost the same sales team since 1991, all combined with a superb use of technology."
Other finalists were the We Want You Motor Group and Tower Motor Group.
The Best Large South Island Dealer award went to Value Cars Warehouse of Christchurch, a dealership the judges described as "young, enthusiastic, entrepreneurial and progressive."
Other finalists were The Car Company Nelson and Regent Car Court Group. Christchurch's Kirk Quality Cars won the Best Small South Island Dealer award.
The judges said the winner had shown "immaculate presentation, used niche marketing and has working directors."
The other finalist was Pauls Cars.
Auckland's Drivetown was judged best small North Island dealer. The judges said the company has had more than 25 years in the business and has "exhibited exceptional after sales customer attention."
Other finalists were Cooper Cars Ltd and Graham Massey cars.
The award for Best Compliance Centre went to Vehicle Testing and Compliance of Hamilton. The other finalists were Auto Inspection Services Ltd and Vehicle Safety Systems.
Television sports personality Tony Veitch was the Master of Ceremonies for the gala evening at Sky City, Auckland. Singer John Rowles (pictured above left) was the star entertainer.