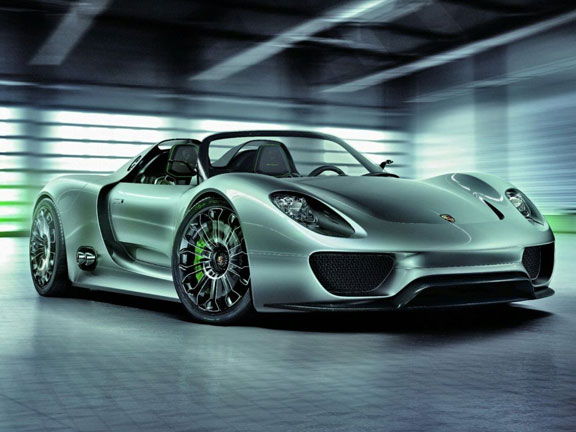 During a special pre-show event, the 918 Spyder was introduced by President and CEO of Porsche AG, Michael Macht.
Described as a "Super-Sports" car, the 918 Spyder is a low emissions plug-in hybrid with a sporty alter ego. 
It is reportedly capable of 3.0 litres/100 kilometres with just 70 grams of CO² emissions per kilometre. However, it's driven by a V8 producing more than 368 kW (493hp) plus three electric motors putting out 160 kW (215hp). 
That combination means the two-seater has a combined power output of 528 kW (708hp) resulting in a 0 to 100kmh sprint in 3.2 seconds and a top speed of 320kmh.
The 918 Spyder features a liquid cooled lithium-ion battery, brake energy regeneration, push-to-pass "E-Boost" button, and four driving modes - E-Drive mode for electric-only powered driving, Hybrid mode for using both the electric motors and the V8 engine, Sport Hybrid mode to use both drive systems but with a focus on performance, and Race Hybrid mode for performance running at the limit.
Power is transmitted to the wheels by a seven-speed Porsche-Doppelkupplungsgetriebe (PDK) transmission that feeds the power of the electric drive system to the rear axle. The front-wheel electric drive powers the wheels through a fixed transmission ratio.
More details to come…