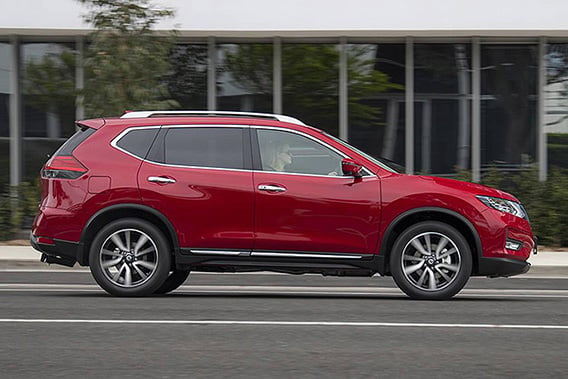 The Nissan X-Trail is one of the few popular medium SUVs to offer more than a simple nod to off-road ability, and the new 2.0-litre turbo-diesel engine boosts its go-anywhere credentials.
Priced from $47,290 (AUD), the TL 4WD features most of the top-spec features of the X-Trail Ti variant including leather-accented interior, Bose premium audio system, heated steering wheel, heated front and rear seats, and a panoramic sunroof.
STRENGTHS
The turbocharged 2.0-litre diesel engine is more powerful than the 2.5-litre atmospheric engine in the Ti, and has significantly more torque for better pulling power. Apart from a bit of turbo lag, the diesel pulls the X-Trail along effortlessly with plenty of power in reserve for overtaking or climbing hills. And unlike the petrol engine it doesn't have gear-change delay issues with the CVT auto.
Fuel economy is pretty good. The official combined figure is 6.1L/100km but we averaged around 8.6L/100km, though, to be fair much of this was in urban conditions.
The ride is smooth and comfortable on the highway or around town, but is let down by the tapping of the diesel engine, especially when cold.
The "Intelligent 4×4" with Hill Descent Control allows X-Trail to handle relatively rough terrain compared with its more city-centric rivals.
The interior is well put together and features double-stitched leather-accented seats, piano black fascia inserts and metallic trim.
The reversing camera with all-round view makes parking even easier.
Syncing to your phone via Bluetooth is quick and simple.
The new flat-bottomed steering wheel features a more intuitive button arrangement, and makes getting in and out of the car a little easier.
The rear cargo area holds a hefty 565 litres that expands to 945 with the 60-40 split rear seats folded down. The boot floor lifts up and splits in two to reveal separate compartments.
It's roomy and comfortably seats five adults. There's heaps of legroom in the back helped by seats that slide back and forth.
As well as great legroom the rear passengers benefit from heated seats and their own air vents, and raised 'stadium-style' seating for excellent front and side vision that's further enhanced by the panoramic sunroof.
Like all X-Trails, the TL comes standard with automatic emergency braking.
WEAKNESSES
Road and engine noise is a little louder than other models thanks to the diesel engine, panoramic sunroof and bigger 19-inch wheels.
Compared with other off-road capable SUVs, the kind of rough terrain the X-Trail can handle is limited by its relatively low ride height and long front and rear overhangs.
The infotainment system isn't as good as you'd expect from a premium model. The satellite navigation map looks dated and lacks detail, which isn't helped by having to look down at the screen away from the windscreen. And while there's buttons to select radio, CD and AUX, the only way I could play music via Bluetooth was to select that mode via the driver information display in the gauge cluster – which makes it difficult for passengers to access. And there's no smartphone pairing via Apple CarPlay or Android Auto.
The Auto Stop function, which is meant to save fuel by automatically cutting the engine when you stop and turning it back on when you take your foot off the brake, comes in too quick. This is fine at traffic lights, but is a pain when you stop for a moment while trying to park. There is an override switch, but you usually only remember it after it frustrates you.
None of the diesel X-Trails, including the TL, is available with seven seats.
The foot-operated parking brake is a little dated and easy to forget.
The TL lacks a couple of features in the petrol-powered Ti including lane keeping assist and adaptive cruise control.
Diesel engines generally make for good tow rigs. However, the continuously variable transmission limits the diesel X-Trail to towing 1650kg braked trailer, only 150kg more than the petrol version.
ANY RIVALS I SHOULD CONSIDER?
This compares well with comparatively priced, upper-spec diesel variants of other popular mid-sized SUVs, including the Ford Escape Titanium, Hyundai Tucson Highlander, Mazda CX-5 GT, Mitsubishi Outlander Exceed, Subaru Forester 2.0D and Volkswagen Tiguan 140TDI.