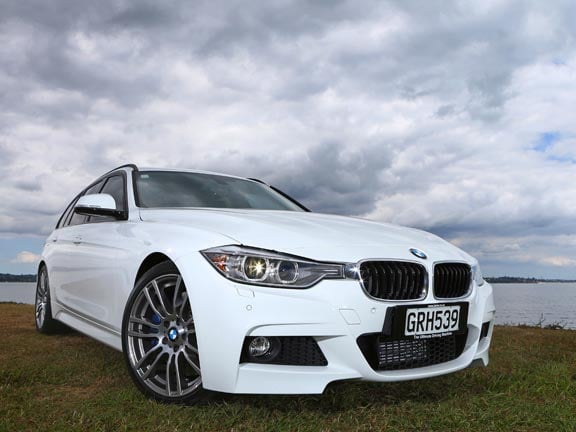 Base price: $90,490.
Powertrain and performance: 2.0-litre turbo diesel four, 135kW/380Nm, 8-speed automatic, rear-drive, Combined economy 4.9 litres per 100km, 0-100km/h 7.7 seconds.
Vital statistics: 4624mm long, 1429mm high, luggage capacity 495-1500 litres, fuel tank 57 litres, 19-inch alloy wheels.
We like: Clever xDrive system, attention to detail for wagon capability.
We don't like: Neutrality of handling might not please 3-series purists.
How it rates: 9/10
WHAT DO I NEED TO KNOW?
There have been two major changes to the BMW 3-series lately: the addition of a Touring (that's wagon in BMW-speak) body shape and, more recently, the option of the company's xDrive powertrain.
Although xDrive is familiar from BMW's crossover models such as the X1, X3 and X5, this is the first time that it's been offered on a conventional wagon in right-hand drive.
Fear not, for BMW has been practising at home: it has offered 3-series xDrive models in left-hand drive since 1987.
WHAT'S IT LIKE TO DRIVE?
As engaging as you expect of a 3-series, but also very different to the marque's rear-drive models. The xDrive system works proactively, using every available sensor to analyse the current driving conditions and anticipate traction and/or handling issues before they arise.
So xDrive can tell by steering angle, stability control and any number of other factors what's going to happen next. And act in advance, if necessary.
Sounds unlikely, but it's true. The other interesting thing about the 3-series xDrive is that it has not been configured to feel like a rear-drive car. BMW says there would be no point in doing that; instead, the xDrive Three feels like a neutral four-wheel drive car. That's why it's such a different driving experience to a regular rear-drive model.
IS IT EASY TO LIVE WITH?
BMW might not be known for its wagons in New Zealand, but the Touring is an incredibly well packaged – and in parts, just plain clever – load-lugger.
The rear seat is split 40/20/40, which allows for a wide variety of people and cargo-carrying combinations.
The luggage bay is fitted as standard with an adjustable divider and elasticated strap, while the removable tonneau cover can be stored in a neat underfloor compartment when not in use.
The tailgate is also a nice piece of design work in itself. It has a glass window that can be opened independently of the main door, while the main hatch is not only powered – it can be opened with a wave of your foot under the rear bumper.
SHOULD I BUY ONE?
I should think so. The 3-series is already the best car in its class, the Touring adds a wealth of extra practicality without compromising on style (some might argue it's even better looking than the sedan) and if you want or need all-wheel drive, the xDrive system is simply brilliant.
EQUIPMENT CHECKLIST
Air conditioning: Dual climate
Audio: CD, iPod compatible
Automatic lights/wipers: Yes/yes
Blind spot warning: No
Bluetooth: Yes
Cruise control: Yes
Driver footrest: Yes
Gas discharge headlights: Bi-xenon
Head-up display: No
Heated/ventilated seats: Yes/No
Keyless entry/start: Yes/Yes
Lane guidance: No
Leather upholstery: Yes
Parking radar: Yes with camera
Power boot or tailgate: Yes
Power seat adjustment/memory: Yes/Yes
Rear ventilation outlets: Yes/Yes
Remote audio controls: Yes
Satellite navigation: Yes
Seat height adjustment: Yes
Self-parking technology: No
Split/folding rear seats: 40/20/40
Steering reach adjustment: Yes
Stop-start: Yes
Trip computer: Yes
Find a BMW 320d HERE