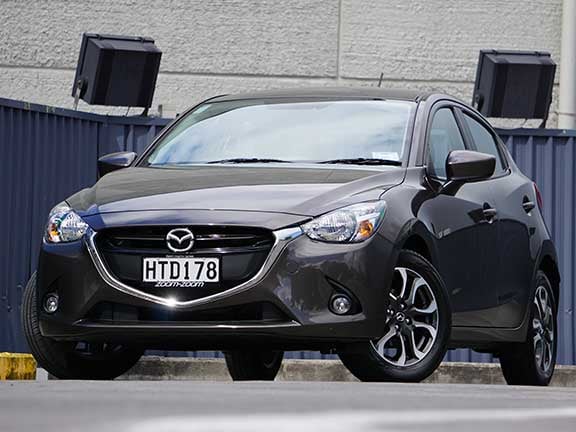 Base price: $24,245.
Powertrain and performance: 1.5-litre petrol four, 81kW/141Nm, 6-speed manual, front-drive, Combined economy 5.2 litres per 100km.
Vital statistics: 4060mm long, 1495mm high, 2570mm wheelbase, luggage capacity 250 litres, fuel tank 44 litres, 16-inch alloy wheels on 185/60 tyres.
We like: Energetic engine, slick manual gearbox, stylish interior, safety equipment.
We don't like: Lack of low-down torque, road noise, impractical cargo area.
How it rates: 9/10
WHAT DO I NEED TO KNOW? Kodo styling and SkyActiv technology is continuing its march down the Mazda range.
Sound familiar? To recap, Kodo is a new styling theme for the Japanese maker, otherwise known as 'soul of motion'. SkyActiv is a new family of platforms and powertrains. The two are inextricably tied together in the Mazda universe: we've had the CX-5, Mazda6, Mazda3 – and now there's an all-new Mazda2 joining the family. All are Kodo/SkyActiv cars.
The new Two is available in GLX, GSX and Limited forms. For our first taste of this new model we've opted for the mid-range GSX, with a six-speed manual transmission.
WHAT'S IT LIKE TO DRIVE? Mazda engineers dislike the term 'downsizing'. They talk instead of 'rightsizing', which is another way of reinforcing the SkyActiv ethos to take conventional technology and redesign it for optimum efficiency: light weight, low-friction.
So while the rival Ford Fiesta is powered by a 1.0-litre, three-cylinder turbo engine, the Mazda2 serves up a seemingly status-quo 1.5-litre four. It's a completely new engine that doesn't quite manage the 92kW/170Nm of Ford's EcoBoost triple, but matches it on fuel economy despite its relatively large capacity.
Better yet, it's fun. There's a lack of low-speed torque (peak isn't developed until 4000rpm) which isn't helped by relatively tall gearing, but the little SkyActiv engine is an eager performer past 2500rpm.
Press on and you do have to stir the six-speed manual gearbox up quite frequently, but that's a pleasure rather than a chore. The manual shifter is Mazda's own work and it's slick/quick. The GSX is not fast, but it has a very sporty feel.
That's also true of the chassis. The steering is light but beautifully progressive. The car turns in well and tracks nicely through bumpy corners regardless of speed; you can throw the Mazda2 around and it comes back for more.
The opportunity cost for this sporting flavor is firmer-than-expected ride, at least in a city-car context. It's not uncomfortable, though.
There is some road noise on coarse chip seal, which is a shame because a tall sixth gear (less than 2500rpm at 100km/h) gives the car long legs for open-road driving.
Active safety features abound on the GSX. Despite being a mid-range model it has high-tech features such as a blind-spot monitoring system and rear cross-traffic alert, which will warn you of cars approaching rom either side when you are backing out of a parking space or driveway.
A reversing camera is an option which is well worth having, although the camera itself (as fitted to our test vehicle) is a rather awkward and vulnerable-looking little thing that sits proud of the bumper.
IS IT EASY TO LIVE WITH? The Mazda2 cabin has come right up to date with the latest Mazda design and technology, exemplified by the Mazda3.
So the new Two gets a snazzy motorcycle-inspired instrument cluster with central speedometer, the dashtop MZD Connect information and entertainment screen that works by either touch (when the car is stationary) or a rotary dial (on the move), and plenty of interesting textures to disguise the hard plastics that are a necessity in cheap-and-cheerful machines like these.
There's even a strip of faux-leather along the passenger-side dashboard trim, with red stitching to match the bright detailing on the seats. It could easily have spilled over into bad taste on a $25k car, but in this one it's nicely executed.
Other pleasing detail touches include a partition in the centre-console storage bin that creates a little slot for your cellphone to stand up, or the wrist-rest provided for the MZD Connect controller between the front seats. Small things, but they count for a lot.
As with other Mazda models, MZD Connect gives you excellent smartphone connectivity with access to applications like Pandora and Stitcher Internet radio, as well as social media feeds from Facebook and Twitter. Satellite navigation, with impressively crisp and clear graphics, is standard.
Don't expect the last word in practicality, though. The boot is modest at 250 litres and although the rear seats fold down, there's a large step up from the cargo area floor through to the cabin.
SHOULD I BUY ONE? For our money, the Mazda2 is now the best supermini currently on sale. Admittedly Mazda's had a bit of an easy ride here, because the only truly new model launched last year was the Honda Jazz. But the Two is still a hugely impressive and hugely entertaining machine – at least as tested.
It's not perfect, of course: the engine can be busy and ride/refinement could be better, but in a fit-for-purpose context – by which we mean somebody buying the GSX in manual-transmission form will be expecting a pseudo-sporty supermini – it's an outstanding little car, with a wealth of safety and convenience equipment into the bargain. Enjoy.
We're looking forward to driving the Mazda2 in automatic-transmission form, in even more luxurious Limited specification. Not to mention the next new SkyActiv model, the CX-3 crossover – a baby-SUV that uses the Mazda2 as its base.
EQUIPMENT CHECKLIST
Blind spot warning: Yes
Lane guidance: No
Cruise control: Yes
Automatic lights/wipers: Yes/yes
Parking radar: Yes, camera optional.
Self-parking technology: No
Head-up display: No
Satellite navigation: Yes
Keyless entry/start: Yes/Yes
Stop-start: Yes
Air conditioning: Single-zone climate
Heated/ventilated seats: No
Power seat adjustment/memory: No
Leather upholstery: No
Power boot or tailgate: No
Split/folding rear seats: 60/40
Browse Autotrader's range of Mazda2 cars for sale.