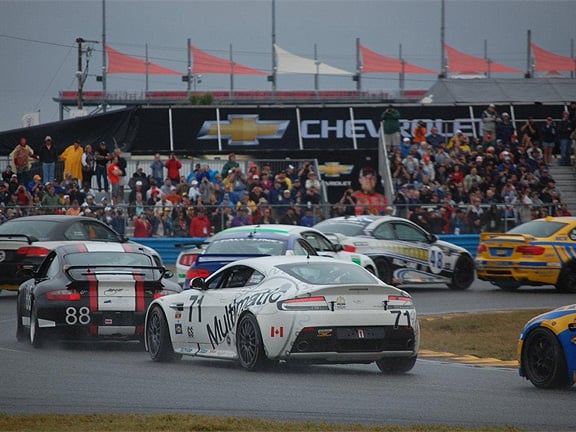 Having qualified in third position during Thursday's qualifying session, the #55 Multimatic Motorsports-run car passed its rivals away from the green flag in treacherous conditions to lead a field of 81 cars on what was Aston Martin's Grand-Am debut.
The second Vantage GT4 of Hollywood star Patrick Dempsey and Aston Martin's chief engineer Chris Porritt – making a one-off guest appearance – similarly improved on its qualifying position in the early stages as Dempsey rose from 24th to 14th.
After two and a half hours of action-packed competition – during which the track dried and many yellow flag periods interrupted proceedings – the lead Vantage GT4 of Maxwell/Foster finished in 16th position, while Dempsey and Porritt finished 32nd in the Grand Sport category after both crews suffered punishing delays.
During the first stint on a drying track, a yellow flag period allowed both Multimatic cars to pit for slick tyres without losing ground. The #55 Vantage GT4 of Foster rejoined the action in eighth overall while Dempsey's #71 car re-entered the fray in 12th.
Foster and Dempsey pitted to make way for Maxwell and Porritt respectively, but not before the #71 Vantage GT4 was hit from behind. The exhaust, which was damaged in the incident, soon began fouling a rear tyre, forcing a long pit stop during which the crew fell down the order as the leading cars completed six full laps. Porritt delivered consistently fast laps in the #71 car for the remainder of the race to climb to 32nd in class.
The lead Aston Martin suffered similar misfortune, meanwhile, when Maxwell was handed a 30 second stop-go penalty for a minor pit stop misdemeanour. Having also dropped down the race standings, Maxwell's fight back was hampered by several late yellow flag interruptions – his eventual 16th place coming as poor reward for some great racing.
Having completed the demanding Grand-Am race, Dempsey said: "It was a tremendous pleasure to be in an Aston Martin at Daytona. The Vantage GT4 handles and brakes really well and was awesome in the wet conditions at the start. Chris Porritt was a great partner – it would be nice if Aston Martin could bring him back for another Grand-Am race so we could complete our unfinished business from today."
David King, Aston Martin's Head of Motorsport said: "To be so competitive first time out in Grand-Am Grand Sport is a tribute to the Multimatic team and to the inherent qualities of what is after all an almost standard car. The Vantage GT4s were a great attraction in the paddock with the fans today and with a little more development they will be challenging the podium positions in the remaining nine rounds of the 2012 Continental Tire Sports Car Challenge."
Larry Holt, Vice President of Multimatic Engineering added: "I'm disappointed with the result, but really pleased with the potential the cars showed. Without the incidents we would have had a top ten car today, but this is aggressive and highly competitive racing as we saw from the many full course yellow flags today, and a couple of little issues can cost many places."
Aston Martin is making a return to domestic competition in North America as it contests the Grand American Road Racing series, represented by newly appointed official Aston Martin Racing partner team Multimatic Motorsports. The Toronto-based outfit has vast experience of the CTSCC having won the championship three times (2002, 2005 and 2008).
The Vantage GT4, meanwhile, has numerous 24 Hour class victories to its credit, as well as the 2010 European GT4 Cup title and back-to-back championship victories in the Nürburgring-based VLN series in 2010 and 2011. Sharing the road-going Aston Martin V8 Vantage's bonded aluminium chassis, 4.7-litre engine and suspension design, the Vantage GT4 also has established itself as Europe's most successful GT4 car with an unsurpassed record for reliability. The Vantage GT4 cars for the CTSCC have been modified in key areas from standard GT4 specification by Aston Martin Racing to comply with Grand-Am regulations and to hone the chassis set-up specifically for the North American Series.
Multimatic has taken on the additional responsibility of supplying Grand-Am specification Vantage GT4s and providing spares and technical support to North American customer teams as Aston Martin Racing's official Grand-Am representative.
The next round of championship will be held at Barber Motorsports Park, Alabama, on March 30-31.