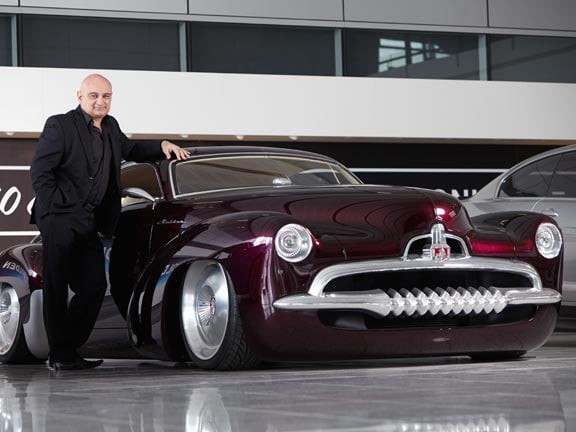 In this role, Mr Ferlazzo is responsible for Advanced, Production and Global Contract programs.
Mr Ferlazzo qualified as an Industrial Designer with RMIT in Melbourne in 1982 and has been designing cars for Holden and GM for more than 25 years, starting as a Creative Designer with Holden in 1988. Mr Ferlazzo has held positions leading interior, exterior and advanced design, as well as concept car creation and international design programs.
In 1995, Mr Ferlazzo spent time in Detroit working on Chevrolet and Cadillac programs.
During his career at GM Holden, Mr Ferlazzo has contributed to virtually every Commodore program since VN. His career highlights include leading the interior design team for the VR Commodore, leading the exterior design team for the VT Commodore program and holding the Chief Designer position for the VE and VF Commodore programs. Additional highlights include the 'new millennium' V2 Monaro and GTO programs.
In 1994, Mr Ferlazzo was given the responsibility to redesign the iconic Holden Lion corporate logo which remains unchanged to this day and adorns hundreds of thousands of Holden vehicles.
Mr Ferlazzo was also responsible for creating the stunning and award-winning Holden EFIJY concept car in 2005. Later displayed at the 2007 North American International Auto Show, EFIJY was awarded the coveted United States 'Concept Car of the Year'.
Growing up in Windsor, NSW, before moving to Melbourne, VIC, at age 10, Mr Ferlazzo was born into a dedicated Holden family, his father owned an EH Holden for many years and Richard lists his favourite Holden of all time as the iconic EH Premier.
"Having a flair for design and a passion for cars it was almost inevitable that I became an automotive designer," said Mr Ferlazzo. "To now be leading such an experienced and dynamic team here at Holden design is a genuine privilege. I see my new role as integral to helping shape the Holden brand of the future and driving global collaboration for future product development.
"Holden is in my blood and I'm looking forward to the challenge of ensuring Holden vehicles continue to evolve to meet the needs of our customers now and in the future," said Mr Ferlazzo.
Mr Ferlazzo replaces Andrew Smith who left Holden this month to assume a Senior Design role in Detroit. He will report directly to Executive Director GM International Operations Design, Michael Simcoe. Mr Ferlazzo also has a second reporting line to GM Holden Chairman and Managing Director, Mike Devereux, and becomes a member of the Holden Senior Leadership Team.