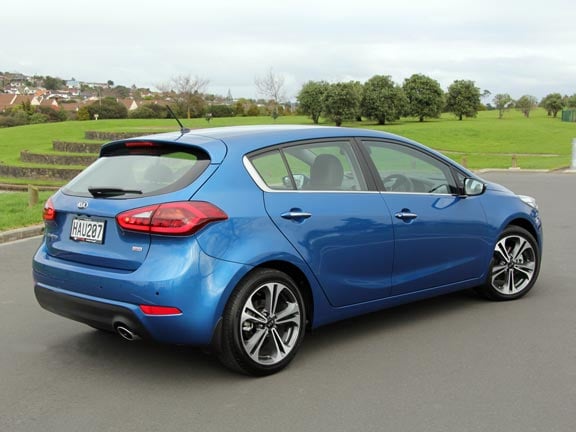 The 5-star rating for the new Kia Cerato rounds off similar results for all the small, medium and SUV vehicles from Kia Motors tested under the strict ANCAP testing programme.
"This is a great achievement by Kia," says ANCAP Chairman, Mr Lauchlan McIntosh.
The 5-star ANCAP safety rating awarded to the Kia Cerato applies to all variants, including the four-door sedan launched in May in New Zealand and the 5-door hatchback, which goes on sale later this month. In gaining 5-star status, the Cerato managed to score 35.51 out of a possible 37 points during the independently run test procedure.
The ANCAP test highlighted the high protection offered by the Cerato passenger compartment, which held its shape well in the frontal offset test with pedal and steering wheel displacements well controlled. Driver and passenger contact with the airbags was stable and all doors remained closed during the crash. Good protection was provided for the driver in both side impact and whiplash tests.
And that is exactly what the consumer should come to expect, according to Todd McDonald, General Manager of Kia Motors New Zealand.
"The Kia Motors design and engineering team target a 5-star rating and anything less would be unacceptable both to the company and also to consumers," he says.
"Kia has been at the forefront of safety development for everyday motoring, such as being among the first to introduce technologies such as electronic stability control to affordable vehicles and then apply it across our entire model range. This technology alone has been credited with preventing a number of road crashes and reducing the seriousness of injuries."
Electronic stability control is among the suite of safety assist technologies that are standard on all Kia passenger vehicles, with the other items including dual frontal, side chest and curtain airbags along with antilock brakes electronic and brake distribution. Other new technologies that are now being adopted by Kia include adaptive front lighting that helps the driver to see better when cornering and for following drivers the rear brakes lights flash to warn of heavy braking.
Another novel idea that Kia Motors is currently introducing to its cars and is now seen on the new Cerato and Carens is seat reminders that flash a warning to the driver if any occupants are unrestrained, so they can ensure everyone is securely buckled up before driving off.
"It's a simple idea that will save lives and Kia is, once again, among the first to adopt it," adds Mr McDonald.