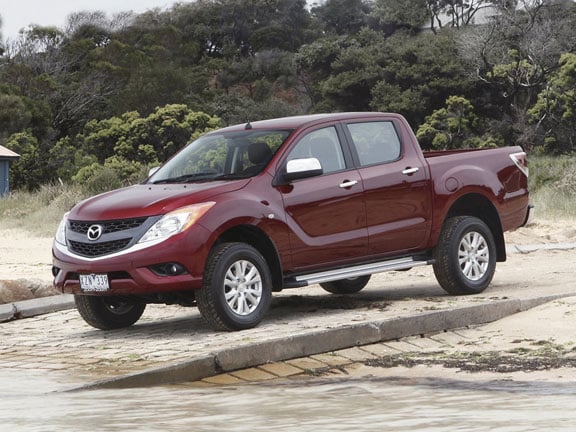 The all new advanced diesel engine, which Mazda says offers a significant increase in power and torque with improved fuel efficiency, will ensure the new Mazda BT-50 has the grunt to handle the toughest tasks.
Headlining the range is the new MZ-CD 3.2-litre diesel engine, in-line 5-cylinder configuration, delivering 470Nm of torque and 147kW of power. This represents a 24% increase in torque, while power is up by 28% over the current BT-50's 3.0-litre diesel engine.
The adoption of a new high-pressure fuel system combined with advanced turbocharging ensures the diesel engine delivers a more refined, responsive and fuel efficient drive.
The new 3.2-litre engine will be mated to a choice of new six-speed transmissions, in either manual or automatic guise. Both have reportedly been developed to exhibit low levels of noise, vibration and harshness making for a smoother and quieter ride.
Towing capacity of the new engine is 3350kg, delivering a 350kg increase over the current model.
Mazda New Zealand national marketing manager, Glenn Harris said, "Utility buyers demand performance from their vehicle and there's no doubt that the BT-50's new advanced diesel engine will provide just that. Not only will this engine make for a more refined and responsive driving experience but customers will really notice the benefit during common scenarios such as towing or driving with heavy loads."
The new Mazda BT-50 will arrive in New Zealand showrooms later this year.
See all Bt-50 utes for sale