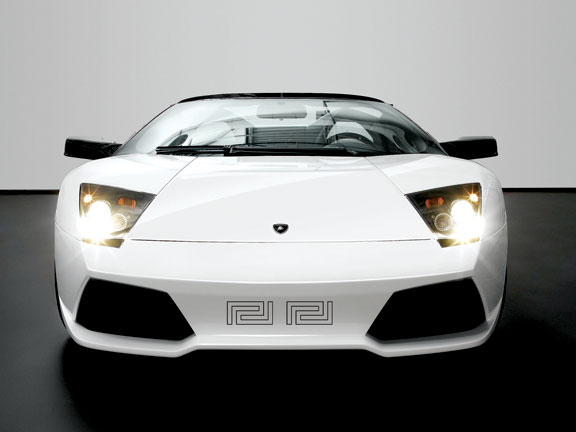 The  LP 640  Roadster Versace is accompanied by a unique collection of accessories. The two style icons have collaborated on special projects since 2006.
To create the new super roadster, the Maison Versace's designers joined designers from the Lamborghini Design Centre (Centro Stile) and specialists working on the car maker's ad personam customer programme. Ad personam allows individual clients to create personalised sports cars, choosing the equipment specification, and the colour of the exterior body and interior fittings.
The new limited edition Lamborghini Murcielago LP 640 Roadster Versace, which will be produced to order, is finished in a pastel white livery and the Versace Greek key motif on the lower part of the door. Equipped for the first time with a transparent engine bonnet that reveals the powerful V12 engine, this model has been reconfigured internally.
The cradle seats are clad in black and white leather, and opulent full grain soft nappa leather – hand-embroidered with the Versace Greek fret motif – upholsters the instrument panel, the doors and the centre console.
The rigorous design and minimal lines of the Murcielago engine bonnet inspired the Versace Collection LP 640 range of accessories.
Exclusively crafted in black matte calf skin, the accessories include a trolley bag, suit carrier and sports bag; as well as a briefcase, suitcase, gloves, driving shoes, belt, wallet, key ring, beauty case, hat and a pair of jeans.
The hand-made accessories are made using traditional craftsmanship, stitching and edging a la francaise and a palladium-engraved tag displaying both the Versace and Lamborghini logos.
The prestigious accessory collection will be exclusively available at Versace Boutiques and selected Lamborghini showrooms beginning in November 2008.
Gianni Versace's boss Giancarlo Di Risio says: "this new supercar and the exclusive Collection LP640 represent a natural evolution of excellence for both Versace and Lamborghini through the creation of these unique, one-of-a-kind projects."
Lamborghini president, Stephan Winkelmann, says the  collaboration with Versace "turned out to be an excellent experience and is an example of how we are pursuing our strategy of developing luxury products outside of luxury sports cars.
"We are proud to be in this prestigious, made in Italy partnership with Versace, which adds to our other recent successes."