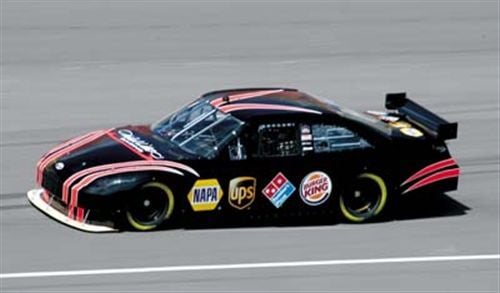 NASCAR's Car of Tomorrow project is designed to set parameters for the
new-look Stock Cars which will be introduced progressively from March 2007.
The Car of Tomorrow is the culmination of a five-year design programme by NASCAR's Research and Development Center. The new car's primary components are safety innovations, performance and competition and cost efficiency for teams.
The new car will begin competition in 2007 at Bristol Motor Speedway and will race at 16 different events next season. The 2008 Car of Tomorrow implementation schedule includes 26 events. Teams will run the entire 30 race-plus 2009 schedule with the Car of Tomorrow.
The new Toyota Camry teams, Michael Waltrip Racing, Bill Davis Racing and Team Red Bull, all ran during the first part of the test, on Monday.
Also at the test session were Ford, Chevrolet and Dodge teams.
14 drivers from 11 teams unloaded cars on Monday morning, and all participated in single-car runs, followed by group runs.
Among them were former Nextel Cup champions, Kurt Busch, Matt Kenseth
and Jeff Gordon.
Monday's Car of Tomorrow session focused on honing aerodynamics and other balancing and handling components, setting up cars for maximum individual performance, then transferring knowledge and feedback
to the afternoon group runs.
"All the rules and regulations are out there," said NASCAR's vice president of competition, Robin Pemberton. "We're just fine-tuning on some of the smaller details now, taking the feedback from the teams and trying to make them easier to build. You know, we're ready to go."
The Car of Tomorrow features two obvious changes on its body – a rear wing instead of a traditional spoiler and a splitter just under the front air dam that catches air.
"It doesn't drive bad," Jeff Gordon said. "This is my first time with the car and I think this is the first time it's been on a track this big, as far as an unrestricted track. By itself, the car drives pretty good."
Kurt Busch said the new-look car is "fairly comparable to what we have now. It's not anything like a night-and-day difference. It's real close. It's just a matter, again, of working with the front end to try to get that splitter real close to the ground."
Gordon noted a positive about the Car of Tomorrow's reaction in traffic.
"You're going to get in behind another car and you're going to push, and it's going to draft good," he said. "The thing should suck up really good down the straightaways, but we'll see."