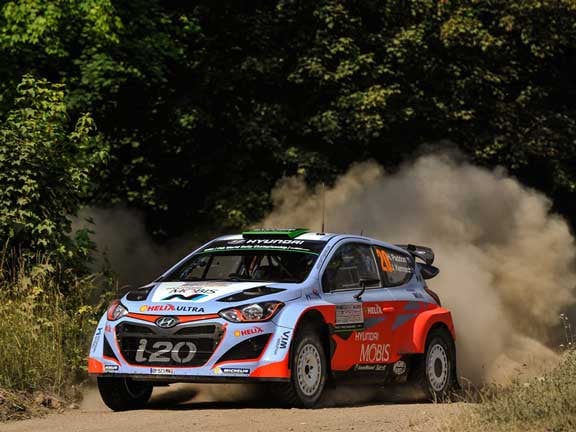 "We'll go in with the same approach that we took to Poland, to try to be consistent and try to be fast," Paddon says. "It's a rally we're familiar with, this being our sixth time there, but because it is so fast, the gaps are a lot closer and you've got to fight pretty hard for every 10th of a second. So we've got a few improvements from Poland to try and make."
The Finnish event, running 30 July to 2 August, is one of Paddon's favourite rallies. "It's a rally I'm quite comfortable with. The service park is in the same place every year, you're familiar with the town, and you're familiar with roads, so that makes it easier. It's not quite a home rally, but when you're comfortable it's easier to be more relaxed for the event to go well.
"This year, Finland is a significant event for my co-driver John – he did his first WRC rally there as a co-driver in 1985 and it's also his 50th WRC event. It's going to be a special weekend for John so it would be nice if we can give him a wee present and have a good result."
Paddon says they have a good base of pace notes from previous years. "There are some new stages, but in general, the stages are pretty familiar to us because we've done them a few times. It's the first time this year that we're going into a rally where we're actually familiar with a good proportion of the stages. Yes, that's the same for everyone else as well, but hopefully it helps us to be more comfortable and therefore competitive."
When Paddon completed the Finnish test in his Hyundai i20 WRC car with Hyundai Motorsport a few weeks ago, the conditions were not typical of the rally.
"The test was wet and muddy which isn't usual for this event, but they've had a lot of rain in areas so it may turn out to have been good preparation for the event. If wet, the roads get softer, chew up a bit and the grip level gets a bit less. We're familiar with a dryer rally there – when it's dry, it's fast. With our road position, starting in eighth on Friday, if it's wet, we might be at a disadvantage. These aren't car-breaker roads, but they can get a bit rutted on the second pass because there are so many cars in the rally."
Paddon says it's one rally at a time. "However we are using Finland and the next rally in Germany as a build-up to Australia, which is a rally we really want to have a tilt at, so we're focussed on the preparation for the car and for myself. The last few rallies have gone well, but we need to stay realistic and do things step by step."
The action kicks off on Thursday evening (30 July) with just one mixed surface, 2.27km sprint close to the rally base in Jyväskylä. A new twist from organisers will see competitors tackle Friday's stages, which total almost half of rally distance, without servicing. Drivers take on over 157km of racing on Friday's opening leg – including the super-fast uncompromising 34.39 km Ouninpohja – without the opportunity for mechanics to work on the cars until the end of day service.
On Saturday features a repeated loop of four stages with a mid-leg service, and Sunday's decisive day features just one stage run twice. The 20 stages cover exactly 320 km in a route of 1260.60 km.
Paddon is the sole entrant in the Hyundai Mobis World Rally Team in Finland, while team-mates Thierry Neuville (#7 Hyundai i20 WRC) and Dani Sordo (#8 Hyundai i20 WRC) once again represent the Hyundai Shell World Rally Team.