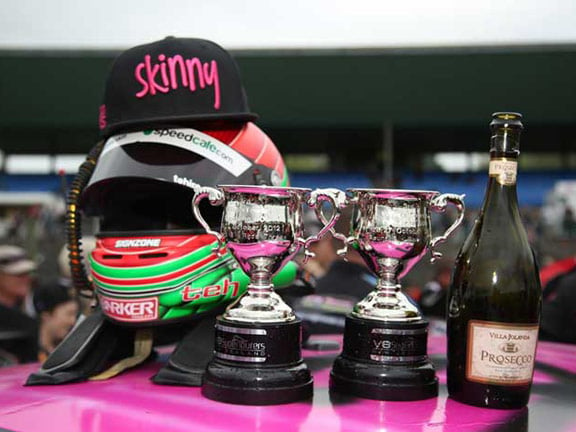 While many of the past champions seriously struggled with the high-speed bumpy circuit a trio of KartSport prodigies showed the spectators how to do it in the company of a massive field of professional drivers from around the world.
The young bucks Andrew Waite, Simon Evans and Richard Moore cars all qualified in the Top Ten. Moore then experiencing his first ever Top Ten Shootout gaining a ninth place position in the Skinny Mobile Commodore with the Tasman Motorsports Waite car qualified by Daniel Gaunt on tenth and Peak Oil Evans combo qualified by Kayne Scott off fourth. The shootout is a whole new experience with just one rolling lap, then one chance only to get it right in a do or die lap for starting position.
Saturday's first 53 lapper, saw the Evans car take third with the Moore/Kelly combo climbing to fourth in a race where a number of teams struggled with reliability and form. Race two on Sunday was another nail biter with the Moore Skinny Mobile Holden seemingly unable to break its stranglehold on the number four position having finished in this slot in every endurance race of the series!
In front of a revved up crowd enjoying the last race before the Pukekohe track is modified for the Australian V8Supercars in March race three kicked off with the Moore/Kelly combo reversing driver duties order. Moore starting the stint and having enjoyed the skills and knowledge of regular Brad Jones racing engineer Matt Bonniface, had by race three built himself up to be fully on the pace. A blinding start however by Simon Evans in the Peak Oil Holden pushed Moore back to fifth on the opening lap. Lap eight saw Moore pull back fourth and then just before the driver change take the Evans car for that elusive third spot.
"While it is always challenging to pass guys like Simon and Andrew it is a pleasure to race with them" Moore added "When you have been dicing with each other in karts since the age of six you gain a huge amount of respect for each other and while no quarter is given you know you can trust these guys to drive professionally"
Seasoned campaigner and Skinny Mobile co-driver Owen Kelly then pulled off another trademark lightening driver change with Moore and the duo were out in a stunning second place behind team mate Murphy for the ride home to the checked flag.
Holding P2 till lap 50 the M3 racing team was looking at a best ever result but sadly after enduring yet another safety car that eroded a healthy margin over third place Kelly slipped back at the restart to fifth. Kelly's Nascar experience showing however, with some precision passing moves and the fourth place voodoo was finally broken with a stunning Skinny Mobile third place for the final and the weekend.
Kelly: "It has been a pleasure to work with the M3 racing guys and to have the added bonus of partnering young Canterbury university student Richard Moore onto the podium in the company of these hugely experienced drivers has been a highpoint of the series for me" Owen added. "Its been excellent racing with Richard, its great to work with someone who will do what is asked, you tell him where and how to go faster and he just does it!"
Christchurch's Powerbuilt Raceway Ruapuna circuit will host the final endurance round weekend 24-25 November in front of no doubt a typically passionate southern Motorsport crowd