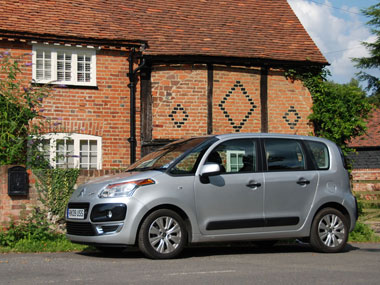 For beneath the fancy suit this is just another well-packaged high-riding sensible family hatch, and rather a good one.
The Picasso is Citroen's tag for its MPV, with NZ already getting the Corolla-class C4 version. This one's a size down, and not yet available to Kiwis as there's no auto. Next year's C3 update should bring a self-shifter though, and if it does we could get this car – most likely in the 1.6 diesel, mid-spec format I tried in the UK.
It certainly makes a lot of sense round town. The large glass areas impart an airy, spacious feel and it's easy to get comfy in these supportive front seats. The instruments are large, easy to read and set well back – as handy for those with 20-20 vision as for the bifocal set. I still like the speedo that's lit from behind by the windscreen, so the brighter the sun, the more visible the display.
But back to the seats. The high hip point not only eases entry and egress, but improves the view out around town, where the 66kW/215Nm 1.6-litre direct injection common rail diesel engine is at its best. My test car had a five-speed manual transmission and pulled well from rest. It felt strong enough pottering about at round town speeds, though it ran out of breath at the top end. I got the best economy at 80kph, not the 113kph that's the UK motorway limit, with a 5.7l/100km average compared to Citroen's 4.7 claim.
That said, most drivers spend most of their time in and around the urban areas where this car's at its best.
School, shopping and holiday trips are all well catered for by the clever boot. There's a flat load floor and 385 litres of space. Raise the floor, tilt it down and it drops, allowing 115 litres more. Fold the seats for the 1506-litre maximum.
The driver gets a glovebox, roomy door pockets and a tray under the front passenger seat – though the cupholders are too small to hold much.
Safety's catered to with ABS, six airbags and hazard flashers that trigger during emergency braking; but the lack of ESP as standard comes as a surprise.
Kids playing up? Fold out the child surveillance mirror. Plug in the iPod, set the speed limiter to keep you ticket free, and relax.
Prefer a more dynamic approach to the road? The conventional Mac strut front and independent torsion rear suspension arrangement do a reasonable job of controlling the wee car, but there's plentiful body roll. This C4 Picasso may be sensible, but it's not much fun to drive.
That said, many folk don't care about dynamic excellence as long as the car works, and on an everyday level this one does.
It's a sensible runabout that's practical but doesn't look it, perfect for those preferring their daily driver to come with a dollop of style.