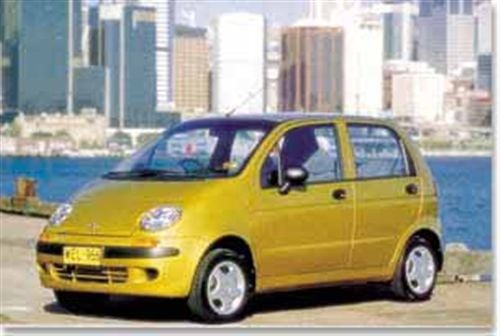 The issue of size and variations came to mind when Daewoo's nifty and stylish little Matiz five-door hatchback came our way for test. It was compounded by the desire to pun on the car's name: Matiz, you know sound like matters, though out at Daewoo they pronounce it like Matisse the renowned French artist.
Well in matters of size the Matiz is diminutive – at least on the outside. It's 3495mm long and 1495mm wide; at 1485mm tall, it's tall for its width. The wheelbase is a relatively long 2340mm. What that adds up to, though, is a cabin that is roomier than the compact exterior might suggest. My usual front seat passenger likes to sit with her seat right back, yet the Matiz had plenty of rear leg room left for adult passengers.
Things are cosier across the car, and it's easy to inadvertently play with the front seat passenger's knee when you're changing gear. Cars of this type are often referred to as shopping baskets, though I'm unclear whether that's meant as a term of endearment or simply to suggest it's only suitable for mum to take shopping at the supermarket.
At any rate if you've got a car full of passengers, the Matiz is not quite a shopping basket. With four people on board and only the small luggage space behind the rear seat available, it takes some crafty packing to get a week's haul from the supermarket into the car, and we don't shop for more than two people. Rear seat passengers end up sharing leg and seat space with the bags that won't fit in the boot. The car is more likely to make the shopping trip with only one or two passengers aboard, so the rear cabin – with its fold-down rear seatback – comes into use as a cargo hold.
Performance is good, though if you're used to bigger-engined cars you need to grit your teeth and just let the 796cc engine eat revs. Once you've got the idea that you need to rev the motor high and ignore the raucous blast, the car moves very briskly indeed. British testers say the 38kW car will hit 96km/h in 19 seconds which is plenty quick enough for city running. Top speed should be around 140km/h.
The car – which weighs just 776kg – gets off the line instantly, though you need to hold it in first for longer than you might normally. It dies away a little when you slot into second, but there's a good surge of speed when you shift from second to third in the five-speed box. The clutch is light yet not hair-trigger, but I found gearshift quality not as good as it might be. The shift had little "feel," and was a little obstructive: the lever needed to be pushed firmly.
Ride quality was very good for such a small light car, and the seats were comfortable and well-shaped. The Matiz cruises comfortably and quietly at motorway speeds, and roadholding is good. Turn-in to corners is very direct and crisp, and front-end grip is impressive. Our only real quibble about the handling was its behaviour in sharpish, fast corners where the car gave a little wobble – doubtless something to do with its narrow chassis footprint and tall body – before it settled down to track around the corner. The front disc/rear drum brakes were strong and progressive, and the headlights were excellent.
There's plenty of standard equipment. Air-conditioning; central door-locking; electrically-wound front windows; handy pockets in the back of the front seats; 60/40 split-folding rear seat back; sound system with cassette player and front and rear cabin speakers; and driver's and front seat passenger's airbags are all included in the $15,000 price. We thought the styling was terrific; it's easily the most handsome of the small city cars, with distinctive, clean and very contemporary lines.
First and foremost the Matiz is a city car, but it's comfortable and brisk enough to sprint down the highway. After we'd gotten used to having to use the engine hard we found the Matiz a very agreeable commuter/runabout. Our only real quibbles were the stiff and slightly obstructive gearshift and the little feeling of a lack of composure when the car was being hustled into a high-speed corner.
It's chic, its well-equipped, it's generally easy to drive and it thrives in the tight spaces and cut-and-thrust of big city driving. It isn't big on the outside, but it's big where it matters. Iron out the gearshift and handling bugs and the Matiz would be one of the very best city cars.