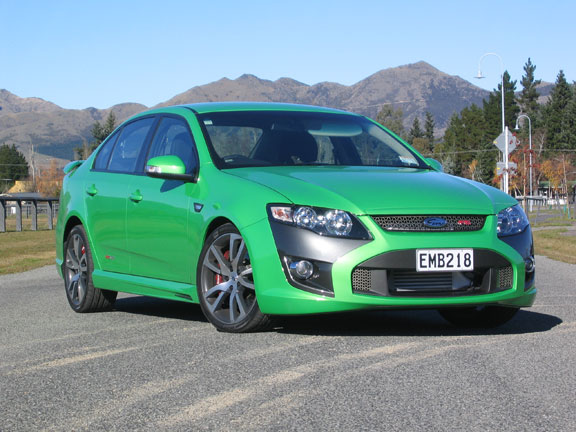 You almost have to feel sorry for Ford, launching its Performance Vehicles range as fuel crosses the $2 mark. It may boast new levels of fuel efficiency for its mighty engines, but that's relative. They're better than before; they're hardly frugal.
Mind you, you don't expect frugal from a performance sedan, and buyers of these FPV cars will be more tolerant of the hit at the pump than those opting for plain Falcons. There's passion beating in the hearts of these buyers; FPV GM Rod Barrett refers to FPV car club folk as new marketing directors for the brand.
What those marketing directors will see is a GT series and an F6 – the new moniker for the outgoing Typhoon.
The GTs are V8-powered with the 315kW Boss engine, starting at $69,990; the F6 gets the 310kW turbo in-line six, and starts at the same $69,990. As implied by the matching entry price, the six is anything but a poor cousin of the range. Just look at the torque figures. That V8 offers a stonking 550Nm, but the F6 delivers more – at 565Nm.
According to FPV head of programmes Paul Cook, the big focus hasn't just been power, but efficiency – better economy, better power, better feel. That's meant a broad range of tweaks and alterations to both engines. The V8 emphasised low loss air intake, diameter changes to the throttle body, improvements to the flow path, alterations to the cam profile.
The V8 revs to 6500rpm, so Cook's team had to look at the reciprocating masses of piston and drivetrain – aiming to broaden the torque curve for greater flexibility. Some 29,000 hours of work included transmission development in Germany, road testing in Australia and New Zealand – at the snow farm – and track testing at Winton, with assistance from V8 Supercar pilot Stephen Richards.
It also included all the work to the F6, with the revised wastegate control, the larger intercooler with its much improved heat control and the simplified path through its pipework. There's also a new, higher efficiency Garrett Turbocharger, bigger pistons, a lower loss air intake path and revised cam timing, while the compression ratio has dropped to widen the knock window and allow owners greater flexibility with fuel choice; this engine is E10 compatible.
The result is not just an enormous torque load for both cars, but an F6 torque graph so flat it could have been drawn with a ruler. You arrive at peak torque very early, mainly because of the improved waste gate, and it stays on stream – it's an astonishing graph. It's a very impressive engine…
It's also seven per cent more fuel efficient than its predecessor, the V8 around five per cent better.
What else? The two cars get the same basic suspension but different tune. So there are new spring rates, ZF Sachs monotube dampers replacing twin tube, and a set-up that reduces roll rate and pitch and improves turn-in response with better resistance to mid-corner understeer – or that's the claim.
It's pretty much the fact, too. The Falcon has always been a sweet-handler for a large rear-drive mainstream sedan. FPV has always gone the extra mile to underline that. And these cars are no different. Sure, if you throw the ute over a demanding set of switchback swervery it will occasionally tell you it's not completely at home. Or rather the stability control, now standard on every car, will alert you that you're pushing the laws of physics. After all, this is a workhorse, albeit one with a sporting edge.
But the sedans? We were thrown over a tight stretch of swervery, very demanding at sub-100kph speeds. And they ate it up – the V8 more than capable, but the F6 a revelation. It sounds like a hooligan, it feels like a hooligan, yet that broad torque spread meant you rarely had to change gear. You just left it in third and went for it.
These cars look the part, too, with that aggressive front and those dangerous, Alice Cooper eyes. Yet FPV has always offered a more subtle alternative to Holden's HSV range, and this line-up still offers restraint – at least at the GT-E level, which lacks the war paint and spoilers, though it has all the performance guff beneath the skin. The other cars offer more pizzaz, with those stripes and the bright range of exterior colours.
But forget the pizzazz, should FPV be ashamed of providing V8s that are 2kW down on HSV, and a six with more torque? Barrett says not. "It's not about numbers." And, "We are not the V8 Falcon car company, we are performance cars."
Still, V8s make the lion's share of FPV sales – 71% in Australia and a little more here. Punters may prefer to stick to the eights despite the greater thirst; after all, we're used to worshipping the V8 persona. But this six is such a great car; that engine so powerful, so flexible; the car's balance so well tuned, that eight-lovers had better not try it for fear they'll be tempted to betray their heroes.