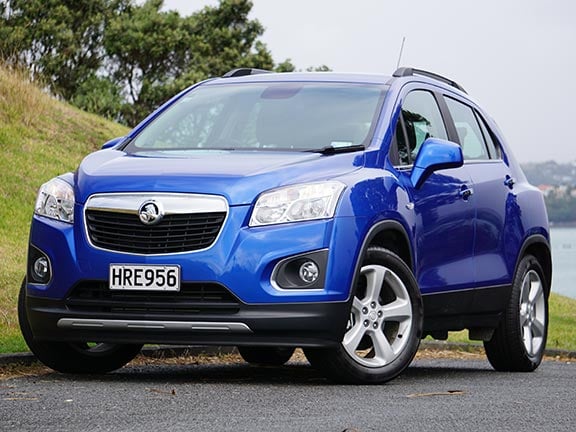 Base price: $35,490.
Powertrain and performance: 1.4-litre turbo-petrol four, 103kW/200Nm, 6-speed automatic, front-drive, Combined economy 6.9 litres per 100km.
Vital statistics: 4278mm long, 1674mm high, 2555mm wheelbase, luggage capacity 356-1370 litres, fuel tank 57 litres, 18-inch alloy wheels on 215/55 tyres.
We like: Looks good, crisp engine, fantastic cabin storage.
We don't like: Dull cabin styling, average handling, lacks character.
How it rates: 7/10
WHAT DO I NEED TO KNOW? Holden seems to have a disturbing habit with its small-car product: it launches an important model with an underwhelming powertrain, then following mass-disappointment turns around and fixes things in short order with a great new engine.
That's what happened with Cruze, which was launched with a pretty ordinary 1.8-litre but later came good with an excellent 1.4-litre turbo mill for the top models.
That's also what's happened with Trax, the maker's South Korean-sourced baby sports utility vehicle (SUV). It actually happened with exactly the same engines: Trax came along in 2013 with that same 1.8-litre, but in late-2014 it was made so much better with the direct-injection 1.4-litre turbo.
Only the flagship Trax LTZ gets the new 103kW/200Nm motor. The rest of the range soldiers on with the old 1.8-litre (there's a $2500 premium for the new engine).
The blown 1.4 is also the same powerplant you'll find in the top Barina: the supermini on which the Trax is based.
WHAT'S IT LIKE TO DRIVE? The new turbo powerplant transforms Trax: performance is still modest, but it's crisp and lively; the six-speed automatic gearbox at last has something to work with. Now, the Trax feels more like a modern SUV and less like a second-rate parts-bin effort.
High ride height and a spacious interior give Holden cause to call the Trax an SUV, but it's not really. It's based on the Barina supermini, it's front-drive-only and part of a burgeoning sub-class of models that provides après-off-roading packaging as an alternative to a conventional hatchback.
Engine aside, the Trax is a decent drive without crossing the line into actual sportiness. The steering is good and there's plenty of grip from the 18-inch rubber, but there's a lot more body roll than you get from a Barina and the car collapses into understeer much more easily.
IS IT EASY TO LIVE WITH? Here's where Trax comes to the fore. The cabin is undeniably spacious and bursting with practical touches. There's storage aplenty, including a bin on top of the dashboard and two separate gloveboxes, as well as phone-sized cubbies (with grippy rubber lining) either side of the information screen.
The cabin styling is still uninspired and there's a lot of cheap plastic around the place. Nobody expects a $35k SUV to be bathed in luxury, but the LTZ still feels a little low-rent in places.
However, Holden's MyLink touch-screen is a feather in the cap for Trax. It's great to look at and to use, with applications such as Pandora and BringGo satellite navigation, both of which link with your own smartphone. The screen also doubles as reversing camera: it's a bit fuzzy and distorted, but still a welcome feature on a vehicle with a high waistline and limited rear visibility.
Other practical features include a proper three-pin plug in the rear (it's amazing nobody has thought of this before) and a rear-seat folding mechanism that allows you to flip the squabs forward and out of the way, for a properly flat loading bay.
SHOULD I BUY ONE? We still can't help but compare the Trax LTZ to the Barina RS, with which it shares an engine and platform. If there's an ounce of the enthusiast in you, there's no competition: the Barina is better looking, has a more interesting cabin and is sharper on the road.
However, there are reasons that small SUVs are a growing segment: high ride height, space and practicality. Trax scores in all of those areas. Exciting it isn't, but in terms of form and function it's an accomplished city car.
EQUIPMENT CHECKLIST
Blind spot warning: No
Lane guidance: No
Cruise control: Yes
Automatic lights/wipers: Yes/No
Parking radar: Rear with camera
Self-parking technology: No
Head-up display: No
Satellite navigation: Application provided for smartphone link
Keyless entry/start: No
Stop-start: No
Air conditioning: Manual
Heated/ventilated seats: Yes/No
Power seat adjustment/memory: No
Leather upholstery: Yes
Power boot or tailgate: No
Split/folding rear seats: 60/40
Browse Autotrader's range of Holden Trax vehicles for sale.