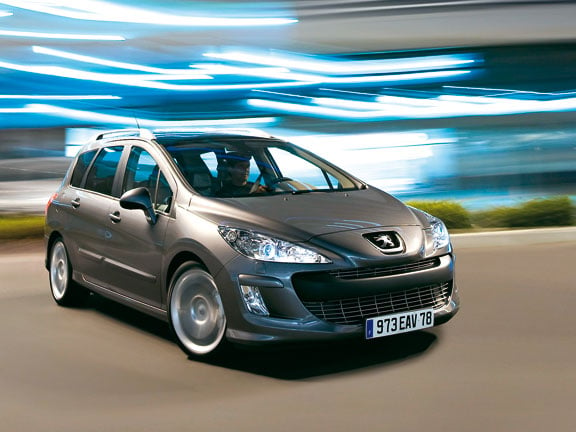 Veering over the white lines isn't a usual road test ploy.
But this car has a rather unusual feature. If you stray over a white line at more than 80kph, the seat cushion vibrates on the side you've strayed. It's not a pleasant buzz but rather an aggressive drumbeat on one or other buttock that soon has you back on the straight and narrow.
A useful feature in an auto wagon, perhaps. Mum or dad, tired after a day of wrangling children, dozes off at the wheel for a potentially fatal moment…
But in a sports hatch? And a manual? Yes – it's fitted to Peugeot's 308 Sport, launched alongside the new fuel-miser AT hatches and the 308 SW wagon that would better suit this tech.
Peugeot NZ concentrated on family-friendly frugality as the focus for this launch. The 308 AT hatches get a 1.6-litre diesel engine matched to an electronically controlled gearbox. This is billed as offering the ease of an auto with the control of a manual; the best of both worlds.
It takes a bit of getting used to, though. There's no clutch pedal – but to drive smoothly you do need to modulate the throttle as you would in a manual. Easy if you're changing gear via the gearlever or steering wheel paddles; less intuitive if you're using the system as a full auto and having to anticipate when the car will change gear.
Yes, the system is more frugal than traditional autos, but you have to wonder if it's worth the effort. Still, fuel misers may not agree.
The base version of this car is the 308 HDi AT, with the 1560cc direct injection turbo-diesel delivering 80kW and 240Nm and a claimed thirst of 4.7l/100km. But the AT-e gets a set of Michelin energy-saving tyres and 4.5l/100km thirst. The high-tech rubber promises a 20 percent improvement in rolling resistance, reducing the energy needed to move the car – hence the improved thirst which, Peugeot says, equates to one tonne less CO2 discharged into the air during the life of the vehicle. There's a price premium of $1000, and I suspect most drivers will do the maths, and realise that at current prices, they'll have to drive almost 300,000km before the saving's offset the premium over the standard 1.6.
If you're that worried about your wallet, you can get a cheaper car altogether; I suspect those opting for the AT-e will be those who like the Peugeot hatch, want a diesel, and love the boasting rights of both this transmission, and the fancy tyre tech.
The new SW doesn't get the tyres. But there's plenty to recommend it. Those unmistakeable lines now outline a larger car. This 308 wagon is longer than its predecessor thanks to extended front and rear overhangs – the wheelbase is the same. But track is wider, as is the body though it's a tad lower. Cabin space is generous for a car this size, enhanced by that sky roof that pours light into the cabin and offers kids a hard-to-match view out.
There's a 2.0-litre turbo diesel engine under the bonnet, with 100kW at 4000rpm and 320Nm at 2000rpm. That torque offers more than enough pull for most situations, the engine proving quiet and refined at cruising speeds and the torque delivering town-friendly performance.
The front MacPherson strut and rear torsion beam suspension has been taken from the hatch and modified. This car has a lower centre of gravity and it feels nice and stable, though ignore Peugeot's blather about handling. It's competent and comfy, as you'd expect from a decent family car, but it's not nimble or particularly rewarding for keen drivers.
But that's not what this car is about. It's about families, and it offers plenty of neat features. Normally a five-seater, each pew folds separately – fold up to four individually. Any of the three rear seats remove. Take the middle one out for a gap between warring kids; move the remaining two seats together; take one side out for long loads; put one of row two behind the others; add two more seats ($2450), to seat seven. Though they're not featherweights – after all, they're full seats including belts – they're not too heavy for the average-sized mum to handle, and the latch-unlatch system is a doddle to use. The boot's well thought-out too, with a tonneau cover, retaining net, storage box, bag hooks power socket – and a removable boot light in case you need a torch. The list goes on.
If you've got a family and your wallet can stretch to the extra, forget the frugal hatch. Get the 2.0-litre wagon for its extra urge; its five-star NCAP rating; the seven airbags and stability control; and its ability to deliver the usability of a small MPV, smart looks and practical city-friendly dimensions.