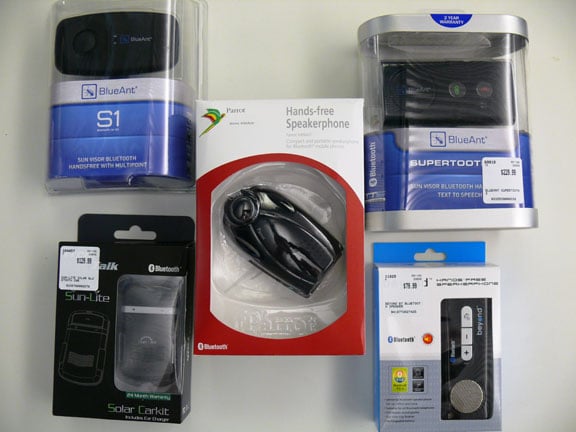 It's easy to assume new Bluetooth hands free kits are all the same, or conversely, the top dollar items are the safest option. However, quickly into our test regime of five volume-selling makes and models we realised this isn't always the case.
Extrapolate things over the course of a week, month or a year and buying wisely can make the difference between you still being able to safely use your cell phone in the car when required, or becoming frustrated enough to revert to illegal call taking.
Through regular testing of our selected units, we've uncovered exactly what features are vital, nifty or just down right annoying for the day to day.
The criteria for the tests consisted of five subjective components,
Looks and size: Is it going to cheapen the interior, or is it a cumbersome size to take with you.
Up and running – which looks at how easy is it to connect, pair to phone and operate and whether the instructions were clear and useful?
Cables and Attachment – this considers how suitably the device incorporates into the vehicle and if the cables supplied are sufficient.
Sound quality: Can you hear callers, can callers hear you?
Value for money: Relative to price vs. overall experience, any additional features and if they improve the usability.
And two objective components:
Battery life: Talk time between charges.
Phone pairing: How many separate phones can be paired at any one time.
Each device was individually tested in the same vehicle with the same late model mobile phone, obviously a disclaimer here is prudent and dependent on your phone type you may not experience the same results.
BLUEANT SUPERTOOTH3
Looks and Size
This is the largest of our five units and if you don't wish to leave it in the car it's an awkward fit in the pocket, it's an austere shape but does blend easily into any interior.
Up and Running
This is by far and away one of the easiest Bluetooth devices we've ever had to use, simply plug in, switch on and a handy voice command walks you through every aspect of set-up and was good to go in less than a minute. The device doesn't require a full charge before use so even if the battery runs flat you can resume your call again by connecting the supplied 12volt power cable.
Cables and Attachment
Spoilt for choice. The Supertooth3 is supplied with both car and home adapters. The very tight clip may indent your sun visor long term, but a spare clip and the magnetic release makes for the easiest removal/attachment from car to car. A niggle evident on all units tested is the charging connector is on the right hand side which isn't ideal for RHD vehicles.
Sound Quality
Incoming audio quality was about average, and could've been better considering the top end price point, the volume ideally could've gone higher and there was a very faint static audible during quiet spells in the conversation. The outbound speech was clear free of ambient noise and the microphone detected quiet speech well.
Value for Money
RRP $230. The Supertooth3 offers plenty of additional features such as txt to speech technology, where the device stores your contacts and can alert you via voice prompt when they call, you can then use your voice to make or answer a call, so once installed this exhibits the most hands free properties. It also can be paired with eight phones at one time. For fleet users or sales reps, the $230 asking price might be a justifiable expensive, but for the rest of us we see it as a bit overkill.
Battery Life: Up to 15 hours talk time, 800 hours standby.
Phone Pairing: 8
BEYOND HANDS FREE SPEAKERPHONE
Looks and Size
This is clearly at the less expensive end of the market, and the construction and styling of both device and the power cord is a step down from the others tested. That said it's a very convenient size, slipping into a pocket or sunglass holder easily enough.
Up and Running
Handily, the unit doesn't require charging before use and can be used while plugged into the cigarette socket, but it's not the most intuitive to pair with the phone and the poorly interpreted instructions are a little vague.
Cables and Attachment
The tight steel attachment clip is not a perfect fit for some sun visors and may need to be persuaded into a form fitting shape, it also is very difficult to unclip the device from the mount and more often relinquishes grip on the sun visor. This could result in undue wear and tear of the vehicle.
Sound Quality
The volume is good on the Beyond unit, though clarity doesn't quite match the other models it's still provides clarity to satisfy the occasional user, outbound speech is comes across slightly quieter but noise suppression is adequate.
Value for Money
RRP $80. Provides a suitably reliable hands-free solution for the entry level price, you're not paying for all the frills, but then, you're not getting them either.
Battery Life: "About" four hours
Phone Pairing: One
PARROT MINIKIT
Looks and Size
Globally, Parrot is renowned for its automotive MP3 and speakerphone technology and while the MINIKIT is one of the brand's more price conscious products, it loses none of the premium quality you'd expect, the only real niggles are that it's a little bulky and the north-south orientation isn't as discreet once installed.
Up and Running
The Parrot can't operate – even with the power supply connected – until there is appropriate charge in the battery, which isn't ideal but you do receive a series of warnings when the charge is low. Pairing a phone could also afford to be more intuitive and the central menu dial and voice prompts to facilitate additional features are quite complex.
Cables and Attachment
Some care is required with the steel clip on delicate or expensive upholstery, but there isn't the visor crushing tension noted on some of the devices, and it doesn't require excessive force to remove the device from the clip for stowage.
Sound Quality
Inbound audio fades in and out slightly but once you've figured this out it's generally very clear. The outbound audio is even clearer, but still not perfect.
Value for Money
RRP $150. Offers plenty of handy features, especially the voice dialling and assignment of voice tags to contacts and redial/reject functions. It's more hands on than the Supertooth3, but technophiles will like that. It also pairs up to five phones, so it's suited to company or private users considering the fair price.
Battery Life: 10 hours
Phone Pairing: Five
FREE 2 TALK SUN-LITE
Looks and Size
In terms of compactness the Sun Lite is heads and shoulders above the rest here, it's uncomplicated, relatively stylish and teeny tiny so easy to take with you.
Up and Running
Ingeniously, the Sun Lite has solar back up charging (takes about 2 hours in full sunlight to charge the battery) so once the initial charge is out of the way, so long as it sees some sun once in a while it'll go for ages. It's suitably easy to pair with the phone and straight forward to use.
Cables and Attachment
Mounts to the windscreen via a suction cup cradle which isn't as convenient or cleanly integrated into the vehicle's interior as a visor mounted system, especially when used with the right hand side mount cable which compromises proximity to the edge of the screen.
Sound Quality
For the smallest unit tested the Sun Lite exhibited surprisingly clear inbound audio during our evaluations, just a hint of static being the only niggle. The microphone picked up faint speech well, but couldn't quite match the Blue Ant for clarity of outgoing audio.
Value for Money
RRP $130. This unit isn't confused with excessive features, but the essentials are covered. Redial, voice dial (if your phone includes this feature) answering of a second call and pairing with up to two phones are about the extent of the added bonuses. But we like the simplicity, perfect for the average punter.
Battery Life: 11 hours
Phone Pairing: Two
BLUEANT S1
Looks and Size
The S1 appears to be a revised design from the S3 and looks more attractive for it; it's also a more convenient size yet still has appropriately-sized buttons you can locate without taking your eyes from the road.
Up and Running
The instructions are very clear, concise and make fitment and pairing straight forward, definitely the easiest of the non-voice prompted units to set up.
Cables and Attachment
The kit lacks a car charger and the S1 needs to connect to 240 volts intermittently to keep it going, but this is the only gripe. It integrates into most vehicles exceptionally well with a faultless strong plastic clip that's safe for use with delicate upholstery and well-placed buttons.
Sound Quality
Notably better than the rest of the units we tested, clean and clear incoming speech was audible during all driving conditions we experienced and the microphone picked up hushed voices clearly without transmitting ambient noise.
Value for Money
Getting up there in price for the occasional user, but for anyone who requires clarity and ease of use, this is our pick. You can accept calls with a voice command or make them if your phone supports voice dialling. Redialling is also idiot-proof.
Battery Life: 15 hours
Phone Pairing: Two
If you'd like to win one of 25 brilliant BlueAnt S1 hands free devices we have to give away, register on www.righttodrive.co.nz