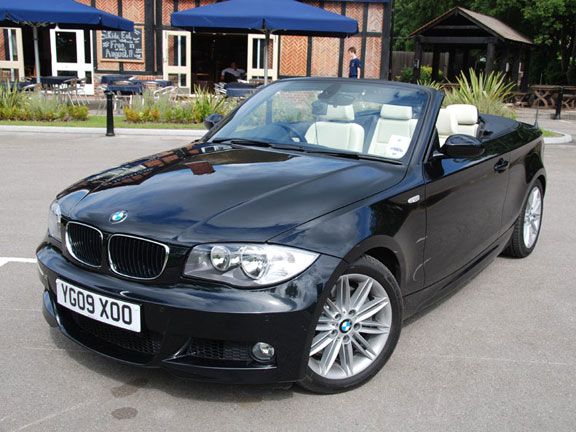 The range of fuel-saving technology BMW calls EfficientDynamics is not yet fully available in NZ. There's too much sulphur in our petrol for the lean-burn engines, but an upgrade to the diesels from October will see more EfficientDynamics features available here.
This isn't boring greenie fuel-saver stuff. BMW promises your car will use less fuel without compromising its performance. Sound too good to be true? We thought so – and borrowed a BMW 123d MSport convertible in the UK to find out.
We already have the previous version, with exactly the same specification as my test car arriving in NZ in October. It's a stylish compact with an electrically folding hard-top roof, a handsome cabin and fine road manners – for a convertible. I prefer the extra rigidity of a solid roof when throwing my car around. But English roads are too crowded for driving derring-do and it's summer; this car proved perfect for stately home and shopping trips with my mum.
The 2.0-litre 150kW/400Nm twin-turbo diesel engine pulls well, the cabin's smart and comfy and even with the roof down, there was enough boot space for our shopping. Better yet, you're not aware of most of the fuel saving tech. This car's fitted with auto start-stop, brake energy regeneration, electric power steering with Servotronic, intelligent alternator control and an optimum gearshift indicator (fitted to manuals, but obviously not auto cars).
You don't feel the brake regeneration, which harnesses power otherwise lost when you brake or throttle off. You don't notice that the alternator only works when the car needs the energy, disconnecting when the engine is working hard and coming back in on the over-run, a set-up mated to an AGM battery that can cope with such intermittent charging phases.
Even the power steering's an on-demand system so it doesn't draw power when it's not needed. The air con pump disconnects when it's not in use, and flaps behind the car's grille open when you're working the engine, and close when you're not to improve aerodynamic efficiency. BMW says this also improves cold starting times and reduces start-up noise; I didn't notice.
You do notice the stop-start, though. Pull up at the lights, into neutral, lift the clutch and the engine dies. Depress the clutch and she's fired before you're into gear. Pull up at home and there's no unnecessary idling, and only once did the system get confused. I'd pulled up, she was cutting out as the lights went green, and I depressed the clutch before it was fully released. A lurch, and we were off. Otherwise it's a great party trick. Disagree? You can switch it off.
BMW says the outgoing 123d drinks 6.2l/100km and emits 164g of CO2. It says this EfficientDynamics model drinks 5.4l/100km and emits 144g of CO2, while power is identical.
My test car averaged 6.5l/100km, but that was mostly on urban running and short stretches of traffic-choked rural home-counties roads, with very little motorway work. I'd expected to use more, and was impressed.
Judging by this car, EfficientDynamics lets you have your cake and eat it, by delivering the performance you expect from whichever model you've bought, while cutting the money you'll spend at the pump.