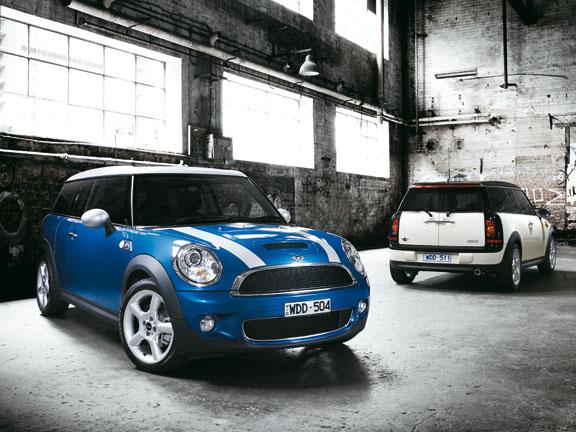 With more versions coming, you could be forgiven for thinking Mini is about to become a maxi brand.
Yet in New Zealand BMW's chic baby car marque will almost certainly remain a niche seller simply because it's an expensive brand.
Widening the choice of variants in our price-sensitive market won't necessarily lead to greater sales. But there's no denying the BMW Mini's worldwide success.
An initial target to sell 100,000 a year was soon exceeded. Current annual sales are more than twice that, and in June, North American demand exceeded Britain's for the first time.
But the long term objective to make Mini a profitable stand-alone marque demands annual sales nearer half a million.
Part of the road to that is a four-wheel drive Mini called Sports Activity Vehicle; a beefed up five-door that's expected within two years.
Austrian company Magna Steyr helped BMW develop the 4X4 Mini, and will make it in Graz, Austria, because the Oxford plant is already at capacity. Odds are the SAV will spawn a two-wheel drive five-door version.
Already the Countryman station wagons have added to the mix and account for 20 percent of Mini sales in Britain.
Petrol and diesel versions of the quirky Clubman arrived in New Zealand in June, and I've been driving a diesel in England.
Putting a Cooper badge on a diesel car may seem a contradiction, but actually says much about modern diesel technology.
Mini now has a variant that sips less fuel than Toyota and Honda petrol/electric hybrids while retaining a decidedly sporting edge.
We packed four adults, and accompanying gear, into a six-speed manual Clubman D and drove to Gloucestershire on an easy touring run that produced 4.4 litres/100km (64mpg).
That's short of the official combined fuel figure of 4.1 litres/100km (68.9mpg), and much higher than the 3.6 litres/100km (78.5mpg) highway figure.
The Clubman weighs 80kg more than the equivalent hardtop Mini and uses slightly more fuel but, either way, Kiwi motorists will be struggling to emulate official Mini fuel consumption results.
That's partly because New Zealand Minis don't have the BMW stop/start function, which isn't available for some markets.
Even so, you'll be doing your bit for the environment – and your pocket – by choosing the diesel with its low emissions and excellent economy.
Top speed is 200kph, and zero to 100kph takes 10.4 seconds – half a second slower than the diesel hatchback Mini.
So the 80kW diesel Clubman is reasonably brisk, if not a match for the turbocharged Cooper S that huts 100kph in 6.2 seconds.
Though the diesel lacks the outright power of the petrol Cooper S, its 240Nm of torque (260Nm with over-boost) is virtually the same, and arrives at a low 1750 revs.
Offering strong mid-range performance, the 1.6-litre BMW-PSA turbodiesel with particulate filter is also fitted to the Peugeot 207 GTi.
Good low speed flexibility and response allows the green Mini to trickle along in fifth and sixth gears with ease.
Slipping through congested London traffic underlined the effectiveness of the automatic stop/start facility, although it wasn't always consistent. The test car had a habit of restarting after about a minute, but during textbook operation eased away without hesitation after an eerie silence at rest.
Even when first off the rank at the lights, there's no risk of holding up traffic as the Mini engine springs into life the moment you depress the clutch pedal.
Drivers who leave their foot on the clutch and gear lever in first when stationary won't benefit from stop/start.
Gear lever action is slick and well weighted but more than once we inadvertently selected reverse instead of first.
Diesel engine noise is more intrusive than the petrol at idle, but on the move the cabin is well insulated.
Despite the taut handling and excellent steering, the Clubman doesn't feel quite as agile as the smaller hardtop Mini. Wheelbase is up 80mm and the extra rear overhang boosts body length 240mm. But, engineers have preserved the regular Mini's sharp road manners even if there's an impression of greater rear end mass.
A weight balance problem created by the Clubman having two doors on one side, and just one on the other was resolved by locating more rigid bodyshell materials in strategic areas.
In standard trim, the Clubman is fitted with 15-inch alloys, but the test car had optional 17-inch rims. That usually affects ride quality, but we were agreeably surprised by the Clubman's ride, even on indifferent surfaces.
As with other Minis, there's real driver involvement, marking the car special. Safety levels remain high with standard automatic stability control and traction control (ASC+T) and dynamic stability control (DSC).
Four-wheel disc brakes offer good feel, with just the right amount of pedal pressure and superb stopping power.
The so-called Clubdoor is on the wrong side for right-hand drive cars, and access via the rear-hinged side door is hampered slightly by the location of the driver's seatbelt.
Even though right-hand drive production is crucial to the Mini's success, the nearside fuel tank positioning meant engineering changes for the extra door had to be restricted to left-hand drive versions.
Still, there's more rear seat legroom – something lacking in the hatchback – and the load area is 100 litres bigger.
The split rear doors have easy-use electric operation with damping and the boot is sumptuously lined.
Carpeting lines two load compartments under the boot floor, and overall finish is excellent.
Each side-hinged rear door includes a wiper, but the split window creates a minor blind spot.
Individuality is a key to the Mini Clubman, although some people find its overall appearance a little odd.
In diesel mode, this wagon Mini is $44,900, in New Zealand, and an extensive options list can push the price much higher.
So do you go regular Mini or Clubman?
If you need a little more room, and relish lower fuel bills, the $5000 difference between a Cooper hatch and a Cooper Clubman might be little more than a book entry.