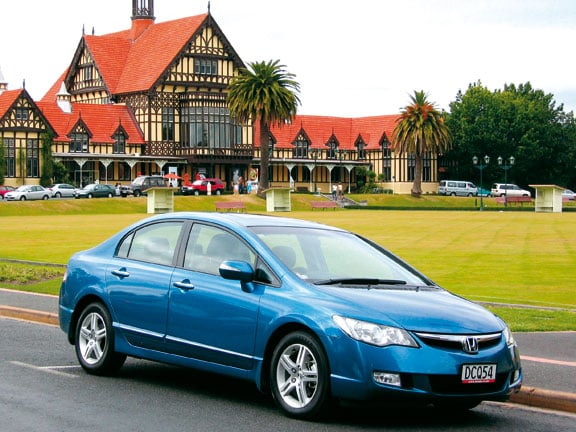 I  was having a chat with a colleague the other day who was driving Honda's 1.8-litre Civic. He was rather disappointed with it: thought it too big, underpowered, and hated the high-mounted digital speedo, with what he called its "flickering numbers".
I was frankly surprised. I like the Civic's roominess – although it's 16.5cm shorter it feels almost Accord-sized, if not as expensive. The power on offer is closer to the average 2.0-litre car, and especially in manual form you can make the most of it. Plus, I liked that speedo. The idea is that while most of the gauges are viewed more or less traditionally, through the wheel, the speedo is mounted high on the dash, so you barely have to flick your eyes off the road to register it. Obviously if your foot's dancing up and down on the throttle you'll be working through the numbers, and maybe that could get irritating. But I rarely noticed it unless I wanted to, when the smallest flick of the eyes revealed my speed.
Perhaps I didn't have enough time in the car to get annoyed? The opposite. For as well as my usual city-country commutes and occasional rambles over the hills, I drove it laden to Rotorua one weekend for a concert, tooled around town with a passenger aboard, then drove north early on Monday just in time to hit the tail end of the Auckland rush hour. Day and night running, city and country, laden and otherwise.
The first impression was that this Civic is very easy indeed to live with. It's a handsome car with an individual sense of style, inside and out; a strong, incisive look that links it to the Honda family but is arguably stronger than that of its bigger siblings, without being so strong it's off-putting. More impressive, the designers drawing up its interior clearly first considered what the driver would be doing, and how, then laid the cabin out to suit. Some cars give you the impression they're designed for the looks, with the controls scattered around afterwards wherever there's a space – or where they won't get in the way of the artist's fancy lines. It's useless for everyday motoring of course, if you can't reach what you need. As an average-sized female I could reach everything I needed in this Civic; it was all well-placed and worked logically. There's even a handbag hook fitted behind the front passenger's seat.
There are plenty of cubbies in the right places, too – or at least I never lacked somewhere to put my drink, lollies, cellphone and lipstick where they were handy. As for luggage, the boot seems positively capacious at 450 litres (a Mazda 3 hatch offers 300 litres). Given the bigger Accord Euro's boot only fits 418 litres I assumed this figure was an error, but no. The Civic even carries four more litres than the V6 Accord, a car which is 29 centimetres longer. Hatch lovers may still scoff – they can load to the roofline, after all. But they won't need to very often, where sedan owners will prefer the safety offered by luggage that can't fly forward during hard braking.
In theory they can also appreciate a reduction in road noise from the three-box shape, though less so in this sedan, for one of the few complaints I had was the Civic's rather high level of road noise.
So what about that claim the engine's got the power of a 2.0-litre? This unit uses Honda's i-VTEC variable valve timing technology to produce 103kW at 6300rpm and 174Nm at 4300rpm. Compare that to a 2.0-litre Ford Focus with 107kW at 6000rpm – albeit with 11Nm more torque – or a Mazda 3 at 106kW and 183Nm. The power claim is not an idle boast, and I think perhaps my colleague was keeping the revs too low to make the most of it. Perhaps his relaxed approach to the throttle reflected the suspension's relaxed approach to life, for this Civic offers a comfortable, rather than incisive ride/handling compromise. Take the car on the track – as I was able to do as part of the AA's Motoring Excellence Awards judging – and you'll find that comfy tuning for the MacPherson strut front and multi-link double-wishbone rear suspension set-up doesn't compromise cornering ability.
Set her up right and ask the big question and the car will carve round the corner just fine. But until you get used to it, it'll feel soft enough that you might hesitate to ask the question. What helps this 1.8 is the better feel on offer from the hydraulic power steering system over the electronic system the other versions get.
This 1.8 manual is the base-model Civic. That still means climate control air conditioning, cruise control, steering wheel-mounted buttons for the audio and cruise system, six airbags, active (and height-adjustable) headrests which improve protection against whiplash, ABS brakes with EBA and EBD (electronic brake force distribution and emergency brake assist) and five three-point seatbelts.
Had we paid another two grand we'd also have got the vehicle stability (VSA) and traction control systems that come with the auto transmission. Don't ask me why the manuals don't get it. Stability control systems – which spot and actively prevent the front or rear wheels from skidding – are arguably the single biggest factor preventing crashes.
I like manual transmissions. I like the way a manual lets you make the most of the power on offer, and I'm willing to make compromises in traffic jams for the increased control on the open road offered over all but the very best auto gearboxes. But especially if I've got loved ones on board, I'd like the insurance that VSA offers.
Overall? Honda buyers seeking a more incisive driving experience will buy the Accord. But those looking for a stylish car that's practical, comfortable and well laid out, with enough performance for good progress – and  without compromising economy – will be very happy with this Civic. The 1.8 offers better steering feel and reduced road noise over the 2.0, but though this $26,000 base car is well specced for the money, unless you're stuck on manuals consider the $28,000 auto version for the VSA, and the value it represents.
Specifications
Engine: 1.8-litre SOHC i-VTEC.
Transmission. Front-wheel drive. Five-speed manual gearbox.
Wheels. 16-inch five-spoke alloy.
Performance (Honda's figures). 0-100km/h, 10.1 seconds. 80-120km/h, 7.9 seconds.
Fuel economy (overall, Honda's figures). 6.9 litres/100km.
Dimensions. Length, 4540mm. Width, 1750mm. Height, 1435mm. Wheelbase, 2700mm.