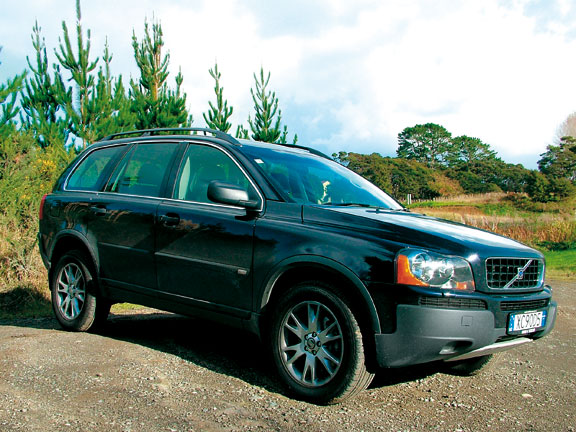 Agile isn't the sort of word you'd expect to associate with a vehicle weighing two tonnes. Especially not a SUV that weighs two tonnes. But it's a perfectly apt description of the Volvo XC90 D5 LE's on-road behaviour. You don't step into this sort of vehicle expecting it to be able to take on tight, winding roads and constant direction changes with real aplomb. Yet the Swedish 4×4 does just that, offering massive levels of grip, great composure and a rewarding driving experience. Match that with high levels of comfort and refinement and newly-won horsepower and you have a very attractive entry in the large luxury SUV market.
It's a distinctive looker, too, with lots of styling cues that tie it in effectively with Volvo's cars and station wagons. Take the fluting of the flanks and the massive fluted taillights that extend up into the roof: it couldn't be anything other than a Volvo. Nor could that jutting, somewhat pugnacious nose with the traditional oblong grille bissected by a diagonal bar bearing the Volvo badge. But the big news is the power upgrade. We didn't drive the old model diesel but colleagues have bagged it for a real lack of urge. That's been put right with the new five-cylinder, 20-valve 2.4-litre turbocharged unit. It delivers 136kW and – more importantly – a chunky 400Nm of peak torque, produced between 2000 and 2750rpm. Combine that power and torque with a silky-smooth six-speed automatic gearbox that can also be shifted manually, and you have the ingredients for an excellent touring vehicle.
We didn't drive the XC90 in real off-road going – our favoured tracks were too slippery, rutted and muddy after recent rain to tackle without another vehicle standing with a winch in case we got stuck. But on a range of surfaces, including some gravel and wet, slippy tarmac, the big Swedish wagon proved more than capable. The power steering offers good feel and is not over-assisted; the steering wheel is chunky and has a comfortable diameter.
Turn-in to corners is refreshingly crisp and most un-SUV-like. The XC90 settles into bends with precision and little bodyroll and despite its height is completely devoid of any feeling that it's up on its tippy-toes when you're cornering hard. Ride is supple and the cabin is well insulated from bumps. The engine is smooth, though there's enough diesel "rattle" to leave you in no doubt that this is an oil burner. Performance feels brisker than it is. Certainly getting up to 100km/h seems livelier than the official figure of 11.5 seconds. Top speed is said to be 190km/h. Volvo quotes combined cycle fuel economy of nine litres per 100km, though our overall figure panned out in the tens.
The permanent four-wheel drive system is Haldex Electronic AWD which combines with the 235/65 SR17 Michelin tyres (mounted on 17-inch alloy wheels) to provide unflappable grip.
There is a raft of electronic driver aids, including Roll-over Stability Control and Dynamic Stability and Traction Control systems. The ABS anti-lock brake system also has Electronic Brake Force Distribution, and there is Electronic Brake Assistance to increase pedal pressure in emergency stops. As befits a Volvo, the dynamic safety systems are backed by plenty of passive safety kit. There are conventional and curtain airbags, a side impact protection system, devices to protect against whiplash, and integrated child safety booster cushions. The exterior mirrors are heated and water-repellent. Upholstery is leather and the driver's and front passenger's seats are electrically adjustable and heated. The second row of seats has a moveable child's seat in the middle, and the third row of seats can be folded away. The climate-control air-conditioning has pollen, dust and exhaust particle filters.
The top-drawer sound system has 12 speakers, rear seat headphone sockets, and a six-Compact Disc in-dash CD changer. The central door-locking has a coded remote controller and  a switch to turn on the lights when you're approaching the car at night. The halogen headlights provide a strong spread of light, and are fitted with high-pressure washers.
The Volvo XC90 D5 LE is a well-equipped SUV with highly-distinctive styling, impeccable road manners and useful levels of power and torque. It's refined aside from some diesel clatter at idle, is easy to get into, comfortable once you're in and is easy to drive and manoeuvre in the city. It will lope along the motorway effortlessly, and storm a winding and demanding road with an aplomb and agility that lifts it well outside the SUV norm. The Volvo XC90 D5 SE sells for $99,990.