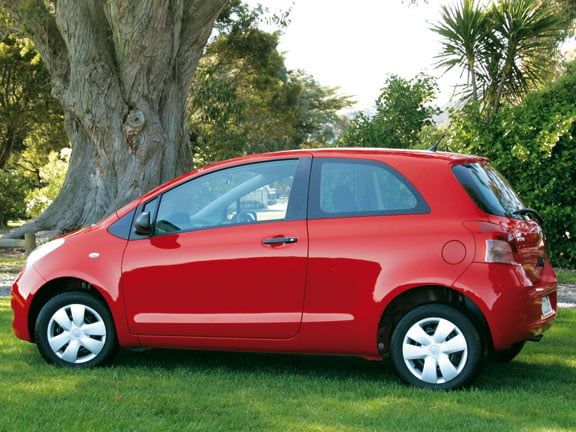 I'll come clean from the outset and say that I've never been a great fan of Toyota's Echo – either in the funky hatchback or downright gawky sedan versions. The Echo's European designer hadn't wanted it to be anything other than a hatchback: the dumpy and rather odd-looking four-door saloon was produced only because the American and Japanese markets demanded one. The original Echo has been a good seller for Toyota worldwide, building on the brand's enviable reputation for reliability, dependability, quality engineering and good resale value.
In Europe the Echo was always the Yaris; here and elsewhere it was the Echo and in Japan the Vitz. Now Toyota says the model will be known everywhere as the Yaris – except in Japan where the Vitz monniker will continue. The new Yaris is on sale here in six hatchback variants, powered by either 1.3-litre or 1.5-litre engines, and with either five-speed manual or four-speed automatic transmissions.
The high-spec five-door 1.5-litres include a driver's knee airbag, front seat side airbags and front and rear curtain shield airbags in addition to the driver and passenger front airbags which are standard on all Yarises.  The 1.3-litre models are available with three or five doors and the full nine-airbag specification is available as an option. When specified with the full complement of nine airbags, the Yaris achieved a five-star rating in the Euro-NCAP crash safety programme.
New Yaris is longer than the old Echo, giving more cabin space and better luggage capacity. Large, wide-opening doors make for easy entry and exit, and the high seating position and large windscreen provide maximum visibility for driver and passengers. Both the 1.3 and 1.5-litre engines are similar to those used in the Echo, but maximum power and torque outputs at low and medium speeds have been improved. Both engines have Variable Valve Timing-intelligent (VVT-i) for maximum fuel efficiency and performance. The 1.3-litre engine delivers 64kW of power at 6000rpm and 120Nm of peak torque at 4200rpm. The 1.5-litre engine produces 80kW at 6000rpm and 140Nm of torque at 4200.
Standard equipment on the 1.3-litre models includes ABS braking with brake assist, driver and passenger front airbags, air-conditioning, tilt and telescopic steering, power windows and exterior mirrors, wireless door locking, and three three-point seatbelts for rear passengers. An MP3-compatible single-disc in-dash CD with radio, four speakers and a security system is standard in all models. The 1.5-litre variants have a leather-wrapped steering wheel with audio controls, higher grade seating fabric, a storage tray under the front passenger seat, and pockets on the back of the front seats.
Exterior enhancements for the 1.5-litre variants also include 15-inch alloy wheels, front foglights, and body-coloured door handles and rear view mirrors. All models come with reclining 60/40 split rear seats, which can be folded flat. Those seats can independently slide up to 150mm fore and aft.
The new Yaris has a passenger cabin that is larger than its predecessor. The distance between the front and rear seats has been increased by 45mm and the luggage compartment length by 130mm. The front seat slide distance has also been increased, providing more legroom for the driver and front seat passenger. The passenger cabin has numerous interior storage spaces of various sizes and capacities.
Toyota says it has positioned the digital instrument panel in the centre of the dash just below the windscreen to reduce the amount of time the driver's attention is diverted from the road ahead. It includes a speedometer, tachometer and fuel gauge which shows the amount of fuel remaining in the tank by means of an eight-segment bar. The odometer comes with twin trip meters.
A completely new suspension platform is designed to give a more comfortable ride and better handling. It also incorporates measures to reduce noise and vibration. The new Yaris has a 42-litre fuel tank and runs on 91-octane petrol.
So much for the facts. Now for the opinion. We drove two Yaris versions, a 1.3-litre manual base model five-door ($21,580) and a 1.5-litre automatic ($27,820) over more than 1000 kilometres. The 1.3 was run almost exclusively in the city, the auto in a mix of urban and highway driving, skewed more towards the latter. We liked the cars' practical aspects – the roomy cabin with its good storage options, like lidded cubbyholes on top of the dashboard for the driver and front seat passenger. The high seating position is a two-edged sword. It offers good visibility but tends to leave you with a feeling of being perched on the seat and a little remote from the driving experience. We'd prefer to sit a little lower and not be reaching down for the steering wheel.
Both engines give brisk performance, and the manual 1.3-litre revealed itself as a good city runabout, nimble and easy to handle and with the ability to duck and dive through busy traffic. The gearshift is light and slick, but we had difficulty achieving smooth changes from first to second and second to third. There was a jerkiness about the relationship between the clutch and the gearbox in the lower ratios that made progress less smooth than we'd have liked.
By contrast, the four-speed auto in the 1.5 was smooth and effortless. Though it doesn't subscribe to the fashion for sequential manual shifts, it can be held in gear and can be shifted manually when you're pushing hard on demanding roads. Handling is secure and roadholding strong, though you're never going to be fooled that this is a sports car. Understeer is moderately strong and there is some bodyroll and a shade of roll oversteer as the weight shifts during hard cornering. Noise levels are moderate and the Yaris auto was a good companion on a there-and-back-in-a-day journey from Auckland to Taupo. Our only gripe was the driver's seat. I felt the support at the base of my ribcage was a little too intrusive. We didn't run a fuel economy test on the 1.3, but it crammed a touch over 400 kilometres into three-quarters of a tank – in mostly city running.
The 1.5 auto delivered 35.5mpg in the largely open-road running (around 8 litres/100km) which is reasonable if not outstanding (our 1993 Corona 1.8 auto will do around the same). Oh, and that centrally-mounted speedo. I wasn't convinced of its merits on the Echo. After driving the two Yaris models, I remain unpersuaded. I don't really think it is any more efficient than one mounted straight ahead of the driver. But in these days of rigidly-enforced speed limits I did like the digital speed read-out.
The Echo was never my cup of tea, and the new Yaris hasn't changed that opinion. I've no doubt that it will sell well and give years of faithful and willing service while retaining strong resale value and appeal. Some of the Yaris' styling cues seem a little heavy-handed – like the exaggerated Audi-like proboscis that seems a little overdone on a car this small – but the overall look is cheeky and different.
It's an honest car with good honest attributes, a New Millennium interpretaion of the qualities that have made Toyota the successful brand it is.